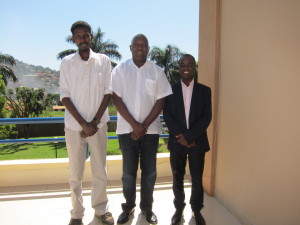 This morning, Hassan Shire Sheikh, Executive Director of East and Horn of Africa Human Rights Defenders Project met with Frank Mugisha, Executive Director of Sexual Minorities Uganda and Hassan Mohamed Ali (Antena) journalist from Somalia, both human rights defenders from the most-at-risk groups supported by EHAHRDP.
Frank Mugisha is a renowned activist working to promote and protect the rights of sexual minorities in Uganda and around the world. He has over the years been involved in advocacy activities aimed at highlighting the increasing restricted space in which lesbian, gay, bisexual, transgender and intersex (LGBTI) activists in Uganda operate. In spite of the persecution he has faced and continues to face, Frank has not been deterred from continuing with his important work. In recent years, Frank has received a number of accolades in recognition of his work including the 2011 Robert F. Kennedy Human Rights Award and the 2011 Rafto Prize.
Hassan Mohamed Ali (Antena) is a journalist previously working in Somalia, one of the most dangerous places to work for a journalist. In 2012 alone, 18 journalists lost their lives with many more injured while engaged in their legitimate work. It is in this environment that Hassan worked. He was shot at and left for dead. He received medical treatment for the injuries he sustained and due to the prevailing conditions was forced to leave and seek refuge in another country.
The ability of both Frank and Hassan to work under such difficult circumstances is highly commendable and EHAHRDP is glad to have been able to support them at the time that they were at risk.