Blog by Hassan Shire
Business must be booming for teargas suppliers in Africa. Many of the continent's law enforcement agencies have shown a fondness for excessive force, including through the use of less-than-lethal crowd control tactics, such as teargas. Those on the receiving end are often citizens active and brave enough to exercise their right to protest in defense of their human rights, and the rights of others.
On Monday, Kenya cemented its place in this dubious club, when law enforcement fired teargas canisters into a crowd which had gathered at Lang'ata Road Primary School to protest the illegal grabbing of land belonging to a school's playground. Around 100 Lang'ata Road pupils aged between 8 and 13 took part in the protest, joining human rights activists, school administrators and parents.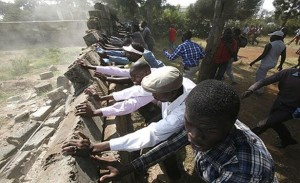 In what the government has already acknowledged was an excessive use of force, police and army cadets shot tear gas canisters at protestors as they attempted to dismantle the fence which had been built to hive off school land.

A number of protesters were injured, including five children, and others fled in distress as panic spread with gas through the air. The police managed to get hold of and eventually incarcerate two human rights activists, Mr. Houghton Irungu and Mr. Boaz Waruku.
Human rights defenders across this continent are under more pressure than ever. They face violence, intimidation and threats from government forces and police who have earned a reputation for their unprofessional and unwarranted attacks on the human rights movement. But, even in the face of police behavior as outrageous as that in Lang'ata, there is cause for pride, and hope.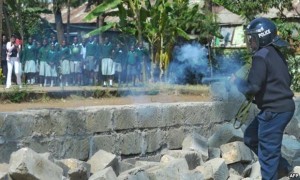 Within hours of the arrests of Haughton and Boaz, the National Coalition of Human Rights Defenders in Kenya (NCHRD-K) and the National Civil Society Congress had sent a team to appeal to the local Director of Public Prosecutions. Because of these efforts, Boaz and Haughton were later released on a KSH20, 000 cash bond on the orders of President Uhuru Kenyatta.
Organizations like these are on the front line, working year round to strengthen the work of human rights defenders by reducing their vulnerability to the risk of persecution and by enhancing their capacity to effectively defend human rights. Just as strongly as we condemn the actions of law enforcement for their arbitrary arrests of Houghton and Boaz, we celebrate the determination and commitment of those who stood against it.
In a vindication of the protesters' cause, and in a reminder of the fundamental importance of the rights to freedom of assembly and expression, President Kenyatta has ordered the land be returned to Lang'ata Road School administration' and he censured the Ministry of Lands and the National Land Commission for failing to address the dispute sooner. The Interior Cabinet Secretary has also apologized over the tear-gassing of pupils. From a scene of chaos and suppression therefore, has emerged a significant victory for Kenyan human rights defenders.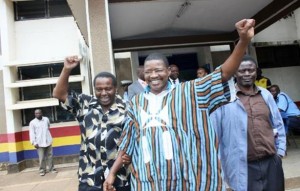 Perhaps the greatest victory of all though, is yet to come. As civil society in Kenya comes under ever-greater pressure, it warms the heart to see a new generation of young Kenyans exercise their rights as citizens, and stand up to protect their rights. It is my fervent hope that these courageous young people will not be dissuaded from participating actively in the public life of the country by what occurred on Monday.

Instead, I hope this marks the birth of a new generation of human rights defenders, who will leave their mark on the country in years to come. Bravo Kenya. Bravo!