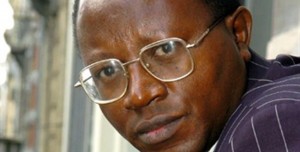 Marking the 1st anniversary of the murder of outspoken DRC human rights defender Floribert Chebeya Bahizire staff and friends of EHAHRDP gathered outside the Floribert Chebeya Resource Centre named in his memory one year ago. Executive Director Hassan Shire Sheikh spoke warmly of his colleague and invited us to celebrate his life and his vision. Congolese human rights defenders and colleagues Gabriel Mugaruka and David Shaban spoke of Floriberts spirit, work ethic, and bravery.
A mass has been scheduled in the afternoon of Saturday the 4th of June 2011 at Matias Mulumba Parish, near Old Kampala Police Station.A remembrance provided by the Human Rights Defenders Solidarity Network (HRDS-Net) has been copied below.
1st Anniversary of the murder of FLORIBERT CHEBEYA BAHIZIRE
Murder is the severest form of censorship and a brave Congolese Human Rights Defender has offered proof with his life. On 2nd June 2010, Floribert Chebeya has joined the unacceptably long list of over a thousand Human Rights Defenders who have been killed in the line of duty in the Democratic Republic of Congo since 1996.
Floribert 's death will bring a light into the hearts of human rights defenders to remain vigilant and fight against injustice and all other form of Human rights violations.
We believe that the truth will be known sooner or later that the assassination of the human rights defender was in the facilities of the National Congolese Police in Kinshasa.
1 June 2010-June 1, 2011, a year has passed, since the death of the Executive Director of the NGO Human Rights, VSV, Floribert Chebeya, whose body was founded on 2nd June 2010 dead in his car on the road to Matadi Mitendi in the western outskirts of Kinshasa. The body of his driver, Fidele Bazana, who had accompanied him to the provincial police inspectorate in Kinshasa was never found. That is why on this occasion we ask all HRD to keep a minute of silence.
A Mass is also scheduled in the afternoon of Saturday 4th June 2011 at Matias Mulumba parish, near Old Kampala Police Station. Chebeya's death has not shaken our courage in the fight against impunity. Discussions at the Military Court in Kinshasa where the case was heard were permanently closed on May 19th the verdict expected within three weeks from that date.
At the last hearing, the prosecutor has confirmed the sentences of his indictment against Mukalay Daniel and others: death penalty, 20-year imprisonment and, deterioration in the policy.
Since June 4th, 2010, the Crown has charged Mukalay Colonel and his co-defendants for the following offenses: murder, criminal conspiracy, terrorism, desertion, illegal possession of weapons.
We believe that one day all the HRDs will work freely in DRC and around the globe.
Kampala, 1st June 2011, Gabriel Mugaruka.
HRD from Congo, Coordinator of Human Rights Defenders Solidarity Network (HRDS-Net)