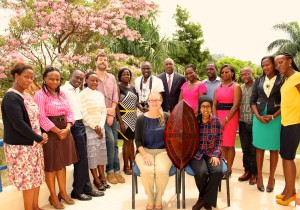 EHAHRDP is pleased to welcome two new staff members to the team:
Kafia Omar joins us as the Special Programs Officer. Kafia holds a Master's degree in International Law from the School of Oriental and African Studies in London. Prior to joining EHAHRDP, Kafia worked for Amnesty International where she undertook campaigning and research on Nigeria's human rights related projects.
She has also volunteered for organizations that deal with Somali refugees and worked in the area of prison law. Kafia's role at EHAHRDP will be dedicated to supporting the protection programme for human rights defenders in Somalia.
Shannon Orcutt joins as a Research Fellow where she will be focusing on carrying out thematic based research on issues affecting human rights defenders in the sub region. Prior to joining EHAHRDP, she worked with the Advocacy Project in Uganda, the Save Darfur Coalition and United to End Genocide organizations based in the United States of America, providing research and advocacy on human rights and civilian protection. Shannon holds a graduate degree in Peace Operations from George Mason University and undergraduate degrees in Global Affairs and Government and International Politics.