Human Rights Council 24th Special Session
Special Session on Burundi, 17 December 2015
East and Horn of Africa Human Rights Defenders Project
Oral Statement delivered by: Pierre Claver Mbonimpa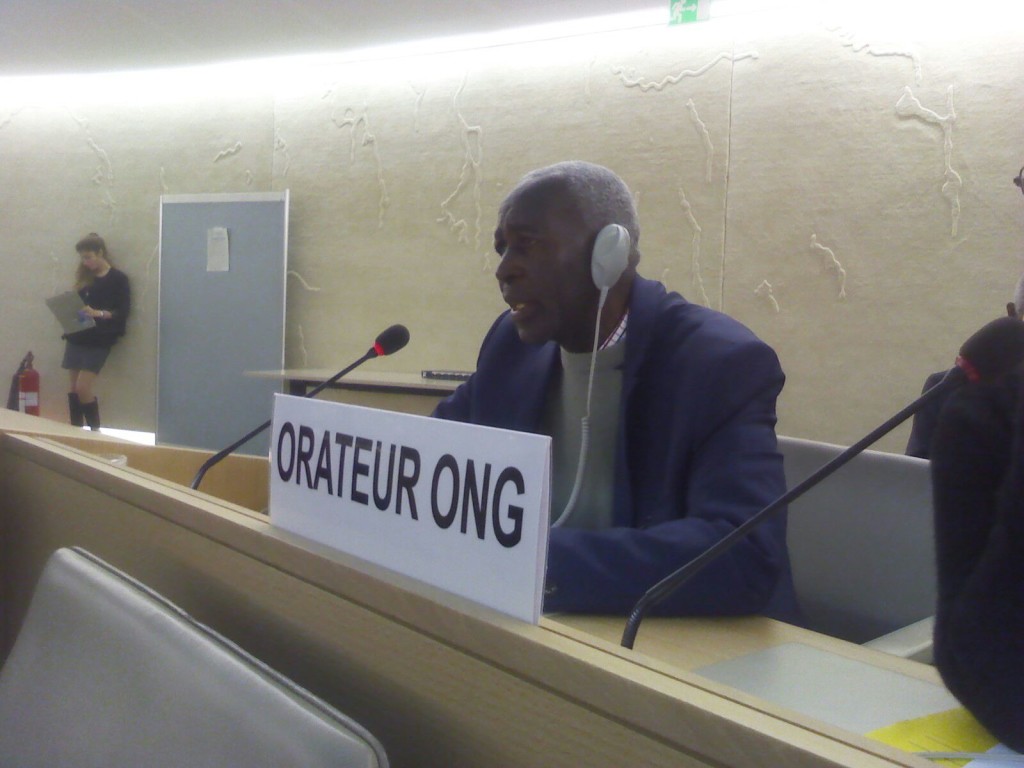 (Version originale en français ci-dessous)
Mr President,
Today, and since May 2015 the Burundian population lives in constant fear. Each day sees new innocent victims lose their lives in extra judiciary executions. Families no longer have the right to bury their dead, nor to mourn them. We watch powerless as grave and mass human rights violations take place, crimes that remain unpunished.
APRODH, the organisation I lead, has documented and verified 600 assassinations since the beginning of the crisis on 26 April 2015, as well as 1180 people injured. Among the 600 dead, 334 were killed by the police, 235 by the National Intelligence Services, 23 by the army, and 8 by civilians.
This monitoring work is becoming increasingly difficult to conduct. Civil society has been the victim of unprecedented attacks: 13 civil society organisations have been suspended, including my own organisation APRODH. The General Prosecutor has closed these organisations' bank accounts. Civil society leaders as well as many other human rights defenders have been forced to flee the country, fearing they will be killed. I narrowly escaped an assassination attempt on 3 August 2015.
Since the outbreak of the crisis, over a hundred journalists, including all the leaders of private independent media outlets, have fled the country fearing for their lives, and some have had arrest warrants or extradition requests issued against them. Government forces have burnt down all private independent media offices.
The Council should urgently send an international investigative mission in order to establish facts and responsibilities, and bring to justice the authors of crimes committed with complete impunity since April 2015.
I thank you.
————————————–
Monsieur le Président,
La population burundaise vit aujourd'hui et depuis Mai 2015 avec la peur au ventre. Chaque jour des victimes innocentes perdent leur vie dans des exécutions extrajudiciaires. Les familles n'ont plus le droit d'enterrer les leurs ni le droit de faire le deuil. Nous assistons impuissants à des violations graves et massives des droits humains, à des crimes qui pour le moment restent impunis.
L'APRODH que je dirige a documenté et vérifié 600 assassinats depuis le début de la crise le 26 Avril 2015, ainsi que 1180 personnes blessées. Parmi les 600 morts, 334 ont été tués par la police, 235 par le SNR, 23 par des militaires, et 8 par des civils.
Ce travail de documentation devient de plus en plus dur. La société civile a subi des attaques sans précédent : 13 organisations de la société civile ont été suspendues, y compris mon organisation. Les comptes bancaires de ces associations ont été fermés par le procureur de la République. Les leaders de la société civile et de nombreux défenseurs des droits de l'homme ont fui le pays de peur d'être tués. A titre d'exemple moi-même j'ai échappé de justesse à une tentative d'assassinat le 3 Août 2015.
Depuis que la crise a éclaté, tous les dirigeants des médias privés indépendants et une centaine de journalistes ont fui le pays de peur d'être tués, et certains sont sous mandats ou demandes d'extradition. Tous les bureaux des médias privés indépendants ont été incendiés par les forces du pouvoir.
Le Conseil doit de toute urgence lancer une mission d'enquête internationale aux fins d'établir les faits et les responsabilités, et de traduire en justice les auteurs des crimes qui ont été commis en toute impunité depuis Avril 2015.
Je vous remercie.