Opinion Piece: As originally published in the East African, January 31st- 6th February Edition
By Hassan Shire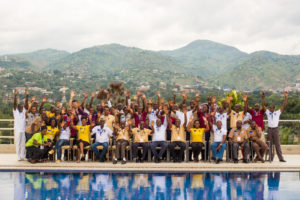 Burundi is at a turning point in its short history as a democratic country. The country's forthcoming third democratic elections since the end of its long civil war, scheduled for May 2015, are of critical importance to its peaceful development, and are a source of growing concern to many national and international stakeholders.
Burundi has some of the most vocal, resourceful, and committed communities of human rights defenders of any country in which the East and Horn of Africa Human Rights Defenders Project (EHAHRDP) works.
buy grifulvin online www.mabvi.org/wp-content/themes/mabvi/images/new/grifulvin.html no prescription

However, in a new report launched this week by EHAHRDP, (2015: Burundi at a Turning Point: Human Rights Defenders Working In the Context of Elections), we have documented an undeniable, extremely concerning, and worsening pattern of harassment, stigmatisation, intimidation and attacks against human rights defenders, and a marked narrowing of the space for civil society more broadly.
I was most recently in Burundi in December, and the current political situation is palpably tense. Combined with rising feelings of insecurity, the 2015 elections are highly likely to try the relative stability Burundi has known since the end of widespread armed conflict in 2005. Human rights defenders are facing a number of profound challenges, and their operating space has become increasingly restricted over the past 24 months.
buy xenical online www.mabvi.org/wp-content/themes/mabvi/images/new/xenical.html no prescription

The relationship between civil society and the Burundian authorities has dramatically deteriorated during the course of 2014. State authorities increasingly portray human rights defenders and members of civil society as being 'enemies of the state', and routinely claim that legitimate criticism of the government's practices stems from an affiliation to the political opposition. Numerous attempts have been made by the government to discredit independent civil society voices, as well as to stifle the activities of human rights defenders through overt harassment and intimidation. The Press law and the Law on Public Gatherings that were passed in 2013 are indicative of a growing trend towards controlling civil society through legislative and state-created tools. The attempts to amend the law regulating not-for-profit organisations, and to amend the Constitution, are illustrative of the political influence to which the judicial system is prone.
Human rights defenders from all areas of civil society are routinely exposed to threats and intimidation. HRDs and journalists concerned with the rise in general and political violence across the country, as well as those undertaking monitoring work to improve the practices of state security forces, have been confronted with serious threats.
The justice system in Burundi is subject to strong political influences.
buy nolvadex online www.mabvi.org/wp-content/themes/mabvi/images/new/nolvadex.html no prescription

EHAHRDP has documented many cases where the judiciary has been manipulated to infringe on the basic rights of human rights defenders. In some cases, judges themselves have acted as human rights defenders, and taken a stand against unlawful interference from the executive branch of government. EHAHRDP has documented a number of cases of legal petitions being opened against human rights defenders, including those who have denounced the alleged armament and paramilitary trainings of the youth league affiliated to the CNDD-FDD, the Imbonerakure. At least five journalists have been subjected to legal actions since April 2014 and asked to reveal their sources, which in itself has instilled a climate of fear around speaking to the press. Several human rights defenders have been exposed to legal harassment, whereby they are repeatedly summoned to court for no particular reason. Just a few days ago, Burundian authorities arrested and detain Bob Rugurika, the director or Radio Publique Africaine (RPA), following RPA's broadcast of a series of investigative reports into the September 2014 murderers of three Italian nuns in the country.
The complex political situation in Burundi is closely intertwined with the challenges facing the country's human rights defenders and wider civil society. The trends we have identified in our new report paint an extremely worrying picture, as Burundi approaches a turning point in its history as a democratic country. Indeed, should these trends continue unimpeded, the forthcoming elections are highly unlikely to take place in a peaceful and democratic manner, and the operating space for human rights defenders in Burundi is likely to narrow yet further.
Hassan Shire is the Executive Director of the East and Horn of Africa Human Rights Defenders Project, and the Chairperson of the Pan-African Human Rights Defenders Network
For more information on EHAHRDP, and to read the full report on human rights defenders working in Burundi, please visit: https://defenddefenders.org/