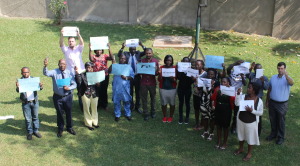 The East and Horn of Africa Human Rights Defenders Project (EHAHRDP) mourns the deaths of the twelve victims of yesterday's terrorist attack on the offices of Charlie Hebdo in Paris.
"Freedom of expression is not only a protected right under international law, it is also a fundamental element of our common humanity that crosses all national, cultural and religious boundaries", said Hassan Shire, EHAHRDP's Executive Director.

"Yesterday's horrifying attack should reaffirm that which is self evident- that democracy, human rights, and freedom of expression are more powerful tools than those who operate through violence, oppression and fear".
EHAHRDP stands in solidarity with the victims and families of all those affected, as well as with all journalists, satirists, human rights defenders, and all others exercising the right to freedom of expression across the world.