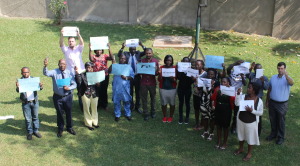 East and Horn of Africa Human Rights Defenders Project (EHAHRDP) est consterné par l'assassinat de douze personnes, victimes de l'attaque terroriste survenue hier, 07 Janvier 2014 dans les locaux de Charlie Hebdo à Paris.
"La liberté d'expression n'est pas seulement un droit protégé par le droit international, Elle est également un élément fondamental de notre humanité commune qui surpasse  toutes les barrières nationales, culturelles et religieuses." a déclaré Hassan Shire,  Directeur exécutif de EHAHRDP. " L'ignoble acte terroriste d'hier doit réaffirmer ce qui est auto-évident : la démocratie, les droits humains et la liberté d'expression sont des outils plus puissants que ceux qui opèrent par la violence, l'oppression et la peur. "

EHAHRDP exprime sa solidarité aux  victimes,  familles des victimes, toutes les personnes affectées, ainsi que les journalistes satiriques, les défenseurs des droits de l'homme, et tous ceux qui exercent le droit à la liberté d'expression à travers le monde.