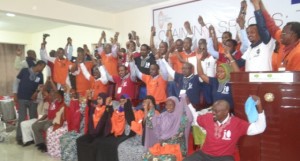 On 16 December 2015, the East and Horn of Africa Human Rights Defenders Project (DefendDefenders) marked the successful end of the three day Annual Claiming Spaces: Tactical Tools for Human Rights Defenders. This year, DefendDefenders held the workshop in Mogadishu, Somalia. The event brought together over 50 human rights defenders from different regions of Somalia, government officials and representatives from civil society and media in Somalia. The purpose of this workshop was to celebrate the international human rights day with activities aiming at building capacity of HRDs, creating networks and sharing experiences and information on good practices. This is the fifth edition held since its inception in Uganda in 2011.
In welcoming the participants and guests of the occasion, the Chairperson of the Somalia Human Rights Defenders Coalition, Abdi Osman called upon his fellow HRDs to pursue peace and stability for the betterment of their country. His message was of hope to a country that has been destabilized by the ongoing threat of the extremist group, Al Shabaab that has resulted in significant human rights violations.
In his opening remarks, Hassan Shire, Executive Director of Defend Defenders, encouraged and commended the work of Somali HRDs in a very difficult environment where they are caught between abuses of Al- Shabaab and the violations committed very often by state actors. He urged them to employ the lessons learnt to enhance their security as they carry out their work.
Hon. Abdullahi Olad Roble, Deputy Minister of Information, Culture and Tourism of Somalia officially opened the workshop and thanked Defend Defenders for such initiatives and for providing a life line for HRDs to improve the human rights situation in the country. He urged the HRDs present to make the most of the workshop for the benefit of others who could not attend.
Hassan Shire, Executive Director held a press conference with the Somali media in which he discussed the challenging working environment for HRDs in Somalia.
The last three days consisted of trainings on ensuring physical security and risk management, digital security, social media and strategic advocacy as well as fundraising and resource mobilization. HRDs have widely shared their experiences and challenges and formulated recommendations to DefendDefenders and the Somali Coalition in order to strengthen the work of the coalition. DefendDefenders will continue its capacity building to support Somali HRDs.
At the margins of the workshop, DefendDefenders delegation also visited the family of late journalist Hindiya Mohamed to show their solidarity and extend their condolences. Ms. Mohamed died from injuries she sustained on 3 December 2015 after a car bomb planted in her car exploded.
"Claiming Spaces" was officially closed by Hassan Shire who thanked and congratulated the participants and reassured them of DefendDefender's commitment to support HRDs in Somalia. It is expected that the HRDs will be better equipped to continue their human rights work.
For further information, please contact:
Hassan Shire, Executive Director, East and Horn of Africa Human Rights Defenders Project on: execut[email protected] or +256 772 753 753 (English and Somali)
Clementine de Montjoye, Advocacy & Research Officer, East and Horn of Africa Human Rights Defenders Project on: [email protected] or +256 752 183 305/ +33 6 58 56 26 50 (French and English)