As mentioned in today's Newvision
On the occasion of the abdication of Her Majesty Queen Beatrix and the investiture of His Majesty King Willem-Alexander, the East and Horn of Africa Human Rights Defenders Project sends our warm wishes and congratulations to the leadership and people of the Kingdom of the Netherlands.
The Kingdom of the Netherlands has demonstrated consistent support to the promotion and protection of human rights around the world.
EHAHRDP takes this opportunity to thank the Netherlands government for its continued support of our mission to maximize the protection of human rights defenders – people and groups that promote and protect civil, cultural, economic, political and social rights through peaceful means – and to enhance awareness of their work nationally, regionally and internationally.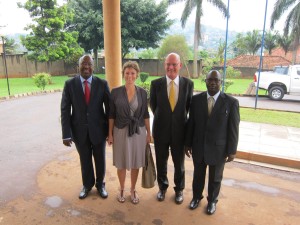 From our headquarters in Kampala, EHAHRDP provides protection, capacity-building and advocacy support to human rights defenders from Burundi, Djibouti, Eritrea, Ethiopia, Kenya, Rwanda, Somalia (and Somaliland), South Sudan, Sudan, Tanzania, and Uganda.
http://www.newvision.co.ug/news/642174-east-and-horn-of-africa-human-rights-defenders-project.html
For more information on EHAHRDP and our work, please visit our website at www.defenddefenders.org or email the Executive Director/Chairperson, Hassan Shire, on [email protected].