Dear friends and colleagues,
Last week, we commemorated the International Day of Victims
of Disappearance, in solidarity with the many African human rights defenders
(HRDs) that have disappeared, been tortured, and/or killed. It is an atrocious
crime which demands our immediate attention.
FOCODE have reported 140 disappearances of HRDs and political
opponents in Burundi over the past five years. In Sudan, during the recent
revolution, reports show that hundreds of peaceful
protestors have disappeared, allegedly at the hands
of security forces. In November 2017, the Tanzanian journalist Azory Gwanda
went missing, and no investigation and accountability has been ensured. Last
week, Kenyan land rights activist Esther Mwikali was found dead two days
after she disappeared. These grave human rights violations illustrate that
enforced disappearance is a widespread tool used to silence HRDs and spread
terror. DefendDefenders will continue to call for justice for HRD victims of
enforced disappearance.

The number of journalists that have been arbitrarily arrested recently is
another reason for concern. Last week, Joseph Gandye, the prominent Watetezi
TV journalist, was taken from his home in Dar es Salaam and placed in police
custody. On 29 July, Tanzanian journalist Eric Kabandera was arrested by the
police. The arrests are a clear sign of Tanzania's sustained
attack on press freedom and free speech.
Sudanese women HRDs have been on the frontline in the
Sudanese revolution, and their remarkable human rights work will not go
unnoticed. In relation to this, we were pleased to recognise, through
AfricanDefenders, the work of the Sudan
Women Protest and present them the African Shield Award. We are closely following
developments in Sudan, and will continue to push for justice at the 42nd session
of the Human Rights Council (HRC42) –
especially in light of the Council's failure during HRC41 to address
the human rights violations, including the 3 June 2019 massacre in Khartoum.
Yours sincerely,
Hassan Shire
Executive Director, DefendDefenders

Human Rights Defender of the Month (August 2019): Alaa Satir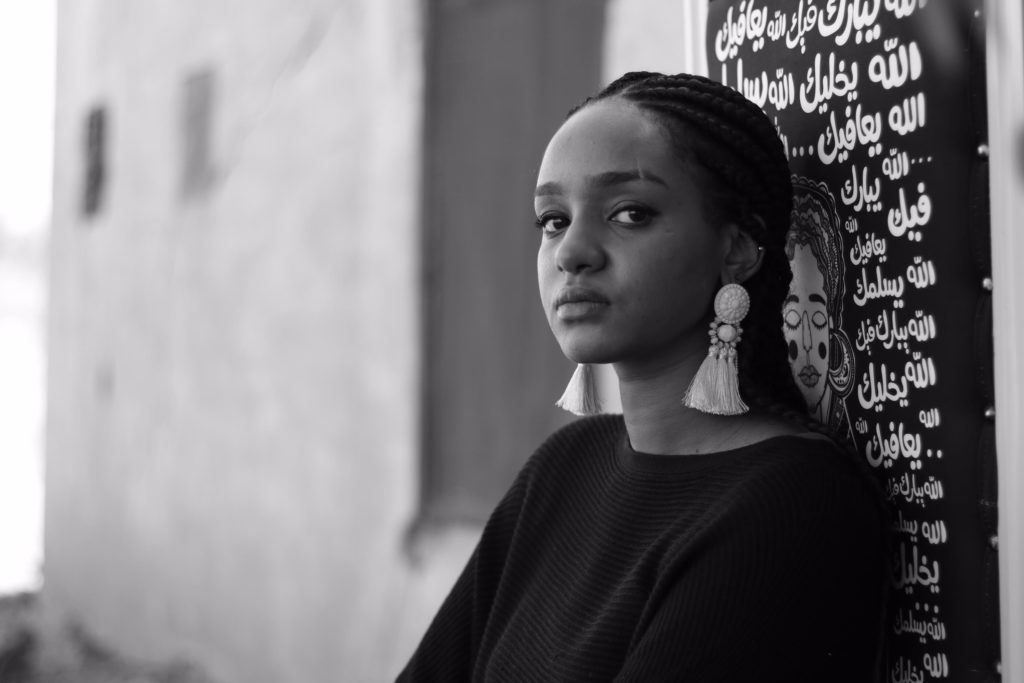 As an inspiring activist, illustrator, and graphic designer, Alaa Satir uses her art as a tool to promote women's rights and justice in Sudan. "The challenges that we,women, have faced in Sudanese society have been enormous – we have been the main casualties of Omar al-Bashir's regime," Satir says. "Art makes people question things. It allows them to practice their freedom of speech. This way, art can create change." Read more.

Check out:
Call for participation: With the fundraising
campaign #ClimbForJustice, the National Coalition
of Human Rights Defenders – Kenya (NCHRD-K) invites everyone to raise awareness
of the situation of HRDs through hiking. For more information, see here.
Call for registration: The registration for the
panel discussion at the NGO Forum on 17-19 October 2019, in relation to the 65th
Ordinary session of the African Commission on Human and Peoples' Rights
(African Commission) in Banjul, The Gambia, is now open. Sign up here. Deadline: 15
September 2019.
Call for applications: International Service for
Human Rights (ISHR) call for applications for a fellowship at their office in
New York. For more information, contact Tess McEvoy at [email protected].

Recommended reading:

Updates from DefendDefenders:
DefendDefenders continues to prepare for HRC42, taking place on 9 – 27 September 2019. Ahead of the session, DefendDefenders joined international civil society organisations (CSOs) to call on States to support a resolution extending the mandate of the Commission of Inquiry (CoI) on Burundi for another year, until September 2020, and another letter urging the Council to address the serious human rights violations and abuses in Sudan and support systemic reforms in the country;
DefendDefenders carried out research on Somalia, including Somaliland, to examine the state of lawyers working as HRDs, as a baseline for our next report. The report is expected to be published at DefendDefenders' annual flagship event, Claiming Spaces, in December 2019;
In relation to the International Day of Victims of Disappearance on 30 August, DefendDefenders and AfricanDefenders carried out the campaign #JusticeForActivists to raise awareness of enforced disappearances of HRDs, and call for investigation and accountability;
DefendDefenders received ten protection grant requests: three were approved, one is pending, five were rejected, and one was withdrawn;
DefendDefenders delivered a session on HRDs protection at a workshop organised by the African Centre for Justice and Peace Studies (ACJPS), that took place from 19 – 21 August in Kampala, Uganda. The workshop aimed to support Sudanese HRDs to develop advocacy strategies to address issues of accountability, fighting corruption and impunity, and institutional reform during the transitional period;
On 20-21 August, DefendDefenders organised a planning meeting with partners in South Sudan, including the South Sudan Human Rights Defenders Network (SSHRDN), Nonviolent Peaceforce (NP), and Anataban. The two-day meeting was a part of the preparation for the Resourcing Resilience Through Artistic Expression Clinics and Exhibition that will be taking place between October and December 2019;
In collaboration with SSHRDN and NP, DefendDefenders conducted a refresher training of trainers (TOT) for ten local trainers in South Sudan. Among other matters, the participants conducted individual training simulations in digital and physical security management;
DefendDefenders carried out a follow-up mission to South Sudan to assess the implementation of knowledge and skills acquired by the women HRDs who attended our Bread for the World training earlier this year, from 20 to 23 August; and
DefendDefenders participated in the Citizen Lab Summer Institute in Toronto, Canada.

Updates from AfricanDefenders:
AfricanDefenders presented the North African and Pan-African Shield Awards to Hala Al Karib,
Regional Director of the Strategic Initiative from Women in the Horn of Africa
(SIHA Network), who received the award
on behalf of Sudan Women Protest; and
AfricanDefenders
participated at a consultation in Addis Ababa, Ethiopia, on the establishment
of an HRD coalition in Ethiopia, to share lessons learnt from the creation and
functioning of other coalitions across Africa.

Updates from the East and Horn of Africa:
Burundi:

Ethiopia:

Eritrea:

Kenya:

Rwanda:

Somalia, including Somaliland:

South Sudan:

Sudan:

Tanzania:
On 29 July, investigative reporter
Erick Kabendera was forcefully removed from his home and arrested. On 30
August, a Dar es Salaam magistrate declined a request to
take the journalist to a local hospital, despite being in need of medical
attention. Kabendera remains in custody after he was charged with taking part
in organised crime among other crimes. Many actors and human rights groups condemned the arrest of
Kabendera, and the overall deteriorating human rights situation in the country.
On 22 August, Tanzanian journalist Joseph
Gandye was arrested. Gandye, who works for Watetezi TV, a station established by
the Tanzanian Human Rights Defenders Coalition (THRDC), was accused of
publishing fake news about alleged police abuse. Human rights groups demand his
release.
On 17 August, 40 African civil society
campaigners attending the 15-nation conference in Tanzania were questioned and
warned, which is, according to human rights activists, part of the bigger
clampdown on human rights in the country.