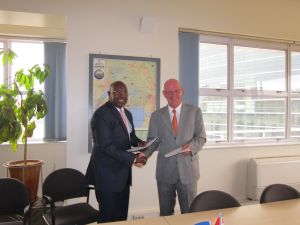 The East and Horn of Africa Human Rights Defenders Project today cemented its cooperation with the Royal Netherlands Embassy Uganda in a three-year project running from 1st December 2014 – December 2017. The official signing of the contract by both the Ambassador to the Royal Netherlands Embassy H.E Alphons Hennekens and Mr. Hassan Shire, Executive Director of EHAHRDP took place today at the Embassy headquarters. The project titled "Protection and Safety for Human Rights Defenders in Uganda" will focus on strengthening national level actors and supporting the Ugandan National Coalition of Human Rights Defenders (NCHRD-U) in building its capacities by implementing practice-oriented mentorship programs which will contribute to the organization's main objectives of creating a safe working environment for HRDs in Uganda. The project will focus on 3 key groups of actors:
Human Rights Defenders: strengthening them through various programmatic capacity building efforts and protecting them through direct emergency interventions when at risk;
Duty bearers: through targeted advocacy actions at national, regional and international levels to increase compliance and commitment; and
Key stakeholders – through targeted advocacy actions to increase commitment and proactive involvement in HRD protection.
As part of the mentorship approach this project will embrace, activities and strategies which are co-designed and jointly implemented, with EHAHRDP taking the lead while establishing a gradual process of skills transfer in which NCHRD-U takes on the proactive role of stakeholder engagement, strategizing and implementation. NCHRD represents a wide cross section of Ugandan civil society which is a source of credibility and locally relevant expertise. The project will make a significant contribution to a safer working environment for HRDs in Uganda but also in the bolstering of a national institution that is capacitated to sustain safety and capacity of human rights defenders in Uganda.
EHAHRDP is grateful for the strong support from both the Royal Netherlands Embassy in Kampala and Ministry of Foreign Affairs in the Netherlands. The generous support of the Dutch people has enabled EHAHRDP to intervene in the lives of human rights defenders in Uganda and throughout the sub-region since its establishment in 2005.