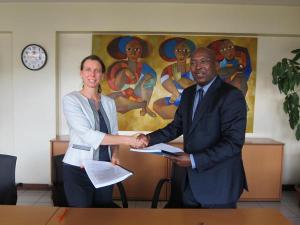 The East and Horn of Africa Human Rights Defenders Project (EHAHDP) today entered into a new agreement with the Austrian Development Cooperation through the Austrian Embassy in Uganda in a two-year project running from 1st December 2014 – December 2016. The official signing of the contract by both the Head of Office at the Austrian Consulate in Uganda, Ms.
Simone Knapp and Mr. Hassan Shire, Executive Director of EHAHRDP took place today at the Austrian Consulate in Kampala.
As the secretariat for the Pan-African Human Rights Defenders Network (PAHRDN), EHAHRDP will implement this project and ensure that sub-regional networks are supported and equipped with the tools they need to protect HRDs working within their sub-regions; conduct research and carry out advocacy through seeking dialogue with state actors, political support from diplomatic representatives especially, and the diplomatic missions in Africa. This project will be carried out across Africa through the following 5 sub-regional networks: Cairo Institute for Human Rights for Northern Africa in Egypt, East and Horn of Africa HRDs Network in Uganda, West Africa HRDs Network in Togo, Southern African HRDs Network (hosted by International Commission of Jurists) in South Africa, and Central African HRDs Network in Cameroon.
The project will contribute to protection and promotion of the right to defend human rights in Africa and to achieving a safe working environment for HRDs in East and Horn of Africa, as well as protection capacity in the other four sub-regional networks.