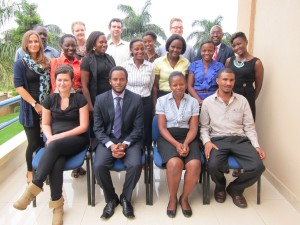 The East and Horn of Africa Human Rights Defenders Project is pleased to officially welcome Ms Loïse Mercier and Mr Majid Maali, who joined EHAHRDP in February 2013 as Security Management Officers. Under EHAHRDP's Protection programme, Loïse and Majid provide security management training and advice to human rights defenders across Africa to minimize their vulnerabilities and risks.
Loïse previously worked for Protection International in Bukavu, Democratic Republic of Congo, as programme adviser for a similar project in capacity building in security and protection for human rights defenders. Previously to that, she worked as advocacy assistant for the International Federation of Human Rights (FIDH) in Brussels, Belgium. Loïse holds a Masters degree from the University of Grenoble, France in International and European Law. She speaks English and French.
Before joining EHAHRDP, Majid worked at Sudan Social Development Organization SUDO from January 2006 to March 2009, where he created an access to justice network that provided free legal aid for internally displaced persons, students, women and other vulnerable groups. SUDO ran community centres for IDPs from Darfur before the government banned the organisation in retaliation for the International Criminal Court arrest warrant against President Al-Bashir. Majid continued his career as a human rights lawyer at the African Centre for Justice and Peace Studies, which is a Sudanese human rights NGO in exile. Majid holds a Bachelors degree in Law from Cairo University in Sudan. He speaks English and Arabic.
Loïse and Majid can both be contacted on securitymanagement@defenddefenders.org or +256 312 265 823.
EHAHRDP is also delighted to welcome on board Mr. Edward Serucaca, who joined EHAHRDP in February 2013 to support the establishment of a Uganda National Human Rights Coalition. He was previously working for Mpeirwe & Co Advocates as a Legal Officer. He has engaged on Youth Platforms nationwide and is an alumni of the Transformative and Alternative Leadership Project organized by the Forum for Women in Democracy (FOWODE). Edward holds a Bachelors Degree in Law and is currently pursuing a Diploma in Legal Practice.
Edward can be contacted on [email protected] and +256 787 422 290.
Last but certainly not least, Ms Shamim Nakato began work for EHAHRDP in March 2013 as Welfare Officer. She holds a Diploma in Procurement, Supply and Logistics from Maltec Business School. EHAHRDP staff would like to thank Shamim for the excellent and nutritious lunches that she provides on a daily basis.