10 December 2015 – International Human Rights Day
As International Human Rights day is celebrated around the world, I wish to congratulate all those who stand up and make their voices heard to defend people's rights. But I'd also like to reflect on an issue that is particularly relevant for the East and Horn of Africa: the challenge of protecting and promoting human rights during election periods.
During election periods, human rights defenders – and citizens more broadly – make use of their fundamental rights to freedom of expression, of association and of peaceful assembly to actively take part in building the future of their countries. Unfortunately, elections also represent a heightened period of risk for HRDs as civil society space becomes increasingly limited, as has been documented by my organisation.
This year in our sub-region, elections were held in Sudan, Ethiopia, Burundi, and Tanzania. While some of these elections were more successful than others, most notably Tanzania, in each country HRDs faced a variety of risks and challenges.
Despite operating in what has arguably been the most stable transition of power in the region, in 2015, the Tanzanian Human Rights Defenders Coalition protection office has documented over fifteen cases of intimidation and threats against journalists. The Government of Tanzania continues to use administrative measures to restrict the operating space for civil society in Tanzania.
EHAHRDP has supported numerous Sudanese HRDs through the years as the government continues to target those most vocal about human rights issues. The targeting was especially prevalent during the April 2015 elections. HRDs were arrested, interrogated, newspapers were confiscated and several NGOs were shutdown. The Sudanese government, like many others in the region, created a climate of fear in the election period that contributed to stifling civil society.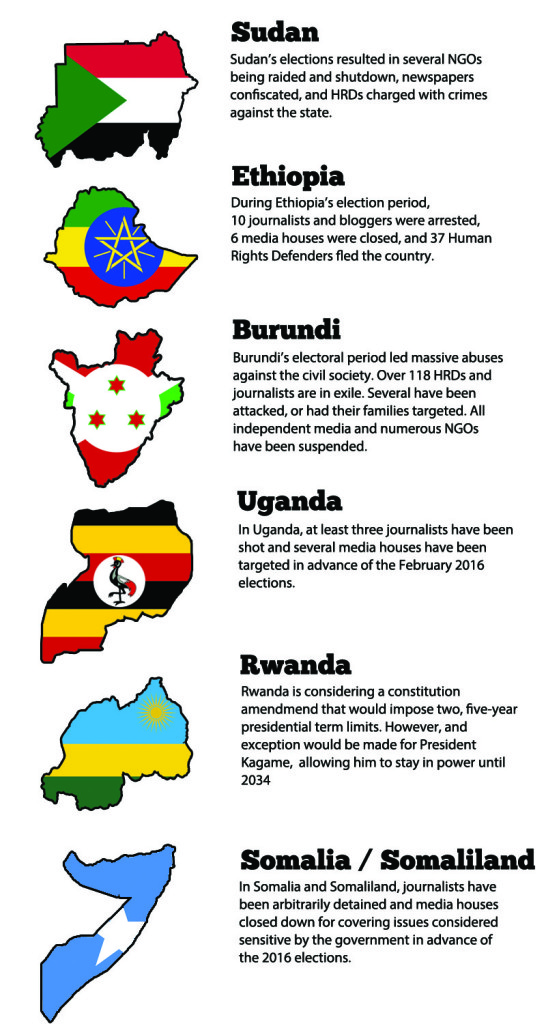 The Ethiopian elections in May 2015 led to the arrest of 10 journalists and bloggers, closure of six media houses, and a mass exodus of journalists into exile as the government sought to silence independent voices that were outspoken on human rights. Despite all of this, just this week Ethiopia was elected the Vice President of the UN Human Rights Council.
In Burundi the elections have had a devastating impact on the country's once vibrant community of HRDs. Numerous HRDs have been attacked for speaking out against President Pierre Nkurunziza's third mandate. In the wake of the elections, civil society and journalists have been harshly targeted. At least 15 prominent NGOs have had to suspend their activities after their accounts were frozen, and independent media has been silenced altogether. There have been violent reprisals against HRDs and their family, including the murder of the son of the renowned HRD Pierre Claver Mbonimpa. Meanwhile, the country continues to descend into chaos, with the population waking up to new bodies on the streets every morning.
Looking ahead, there is cause for further concern.

As Ugandans are preparing to go to the polls in early 2016, at least three journalists have been shot for attempting to cover the primary elections in October 2015. Human rights organisations have been subjected to break-ins, and HRDs and the media working on elections monitoring are placed at heightened risk.
In Rwanda, President Paul Kagame is preparing to join the growing clique of African leaders that refuses to hand over power by abolishing term limits: a proposed constitutional amendment could leave him in his seat until 2034. Rwandan civil society has come under such intense pressure that it is virtually unable to operate today.
In Somalia and Somaliland, the upcoming election presents major challenges for human rights defenders working in the media. The government continues to exercise control over the press despite its constitution and national laws recognising media freedom. Countless journalists have been arbitrarily detained and media houses closed down for covering issues considered sensitive by the government in advance of the 2016 polls.


Despite the clear pattern of targeting and increased risk for HRDs in electoral periods, there has been a lack of sufficient support and adequate planning far enough in advance of elections to protect and assist HRDs.
Throughout the East and Horn of Africa, HRDs are working tirelessly create a space for civil society and to stop the decline of democratic institutions. Too often, their work is equated with opposition politics and a threat to the ruling parties. These activists do not work to oust their leaders, but to guarantee that all citizens can use their fundamental rights to freedom of expression, of association and of peaceful assembly.
In the region, elections often create instability and instead of advancing democratic principles, many countries use elections to consolidate power at the expense of the rights of their citizens.

With upcoming elections in 2016 and 2017 in Uganda, Somalia, Djibouti and Rwanda, it is essential that we not only focus on whether the polls were free and fair, but also what challenge they pose to the protection of civil liberties and human rights in the East and Horn of Africa.