Dear friends and colleagues,
Another year has passed and I'm proud of the achievements of DefendDefenders. Despite the challenges of operating in the ever-restricting space of the East and Horn of Africa, our team of 34 has succeeded in assisting the most at-risk human rights defenders (HRDs) and has shown both dedication and innovation in their approach to their work. I'd like to take a moment to recognise the valuable contributions of each staff member at DefendDefenders.
In February, the East and Horn of Africa Human Rights Defenders Network (EHAHRD-Net) held its third
General Assembly
in Kampala. The event brought together over 140 HRDs and international partners, and provided a valuable opportunity to evaluate and improve on our protection strategies. Having served as the Chairperson for the network since its founding in 2005, I declined to stand for another term and was encouraged to see that the EHAHRD-Net members elected Vital Nshmirimana, President of the 
Forum le Renforcement de la Societe Civile
, Chairperson of the
Coalition Burundaise des Défenseurs des Droits de l'Homme
, and a tireless advocate for human rights, as my successor.
The CIVICUS Monitor published a total of 44 updates on events in 9 countries of the sub-region provided by DefendDefenders. While the Monitor indicates worrying trends and suggests a general deterioration of civic space at the regional level, we were glad some improvements in civic space in Somalia resulted in its ranking changing from "Closed" to "Repressed".
[/vc_column_text]
DefendDefenders also worked on monitoring the particularly tense periods for civil society in Uganda and Kenya to provide flash updates, and recommended that Kenya be added to the Watch List from July to November 2017. One of DefendDefenders' priorities is supporting HRDs during election periods and thanks to the development of security guidelines and scenario building exercises, the security management team accompanied Kenyan HRDs during the tense electoral period.
The organisation continued to develop its advocacy at the international level and participated in 3 sessions of the UN Human Rights Council. It supported 13 HRDs to conduct advocacy, speak on panels in side-events, deliver oral statements, and shape the UN HRC's overall agenda on the sub-region. Throughout the year, DefendDefenders has supported the work of the UN Commission of Inquiry on Burundi and the UN Commission on human rights in South Sudan, including through multiple side-events to share and discuss the findings of these commissions with activists from the ground. Additionally, DefendDefenders submitted three joint UPR reports on Burundi and Djibouti.
In the context of the wider global refugee crisis, DefendDefenders and the Pan-African Human Rights Defenders Network (PAHRDN) successfully developed its Hub City Initiative to help relocate human rights defenders at risk on the African continent in Abidjan (Cote d'Ivoire), Tunis (Tunisia), Kampala (Uganda), and Johannesburg (South Africa). It supported the process of establishing a secretariat for the Southern Africa Human Rights Defenders Network and worked to strengthen South-South cooperation with Forum Asia.
PAHRDN also continued to develop as a major player at the regional level and supported 12 HRDs to attend the 60th and 61st sessions of the African Commission on Human and Peoples' Rights (ACHPR). In collaboration with partners, PAHRDN contributed to the ACHPR's Guidelines on Freedom of Association and Peaceful Assembly, which were launched during its 61st session. DefendDefenders supported 13 HRDs to attend both sessions, submitted two biannual reports giving updates on events in the sub-region, and launched two publications: "Stand Up! Security Manual for African Human Rights Defenders" and "Don't Shoot the Messenger! Journalists as Human Rights Defenders in the East and Horn of Africa". For the first time, DefendDefenders organised a security management clinic at the 61st session of the ACHPR, offering 42 HRDs tips and advice on how to better manage their security (both online and offline).
DefendDefenders' flagship Protection Program continues to work around the clock, and provided almost 200 emergency grants to HRDs. They successfully placed three HRDs in internships and offered technical assistance to an additional 50 HRDs. The team has also been working on developing specific support for HRDs to practice better self-care, including training programs in artistic therapy and stress management. Self-care is rapidly becoming a priority given the gravity and severity of the challenges HRDs face in the region.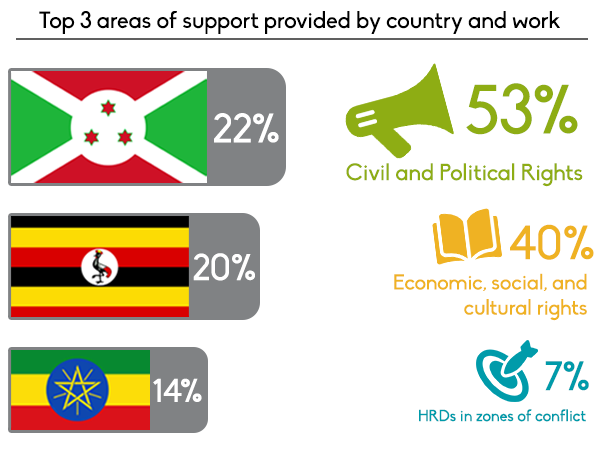 The Security Management team built the skills of 172 HRDs in physical and digital security, and trained 12 new HRDs to add to the pool of trainers it has been developing in the region. A total of five organisations received support to develop and implement their security plans.
None of these activities would be possible without the stalwart support of the Capacity Building team, which provides the logistical support necessary to the organisation of trainings throughout the year. Thanks to their careful planning, almost 50% of the HRDs trained were women this year, reflecting the organisation's decision to ensure that women are given equal opportunities to access resources and trainings.
DefendDefenders itself has begun incubating initiatives and innovative strategies, led by our fast-developing Technology Department. In order to equip HRDs with the necessary tools to get the highest possible impact, the team has worked with organisations across the region to establish and maintain websites and databases, develop campaigns and ensure their work is secure. The Safe Sister Project paid particularly attention to enhancing the work and security of women HRDs, while Doc It and Data4Change helped improve HRDs' data collection for their human rights work.
As a partner of the Innovation for Change Africa Hub, we participated in 3 media engagement trainings aiming to enable activists and journalists to enhance their campaigning activities. An interactive online platform with 198 members was developed, and the Africa Hub was successfully launched this November, so please keep an eye out for updates on this.

Finally, DefendDefenders' flagship Great Lakes Project focused on alternative support to HRDs in exile was also successfully established. It is now running smoothly and has enabled HRDs to stay engaged in their work in exile.
On behalf of the entire DefendDefenders team and our network members, I would like to extend our sincere gratitude to all our partners who have supported us throughout the year. With our new and improved rebranded website and organisational image, we are looking forward to next year's challenges!
For further developments from DefendDefenders and the sub-region, please sign-up for our newsletter, or follow us through social media on Facebook and Twitter
Our offices will close for the festive season on Friday 15 December 2017 and will re-open on Thursday 4 January 2018. However, as always we will be there for HRDs at risk with our emergency 24/7 protection line, +256-783-027-611, staffed throughout the holidays.
I wish you happy holidays and a prosperous new year!