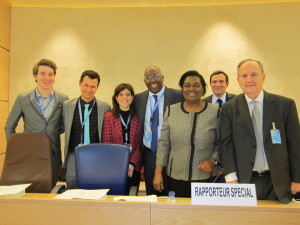 The East and Horn of Africa Human Rights Defenders Project welcomed the report of the UN Special Rapporteur on Human Rights Defenders presented yesterday to the 22nd session of the Human Rights Council being held in Geneva. In her report, Madam Margaret Sekaggya highlighted the role that national human rights institutions (NHRIs) that operate in compliance with the Paris Principles can play as human rights defenders and in support of human rights defenders.
Observing the interactive dialogue in Geneva, EHAHRDP's executive director, Hassan Shire said: "The Special Rapporteur has recognized that NHRI members and staff – in common with their fellow HRDs, be they lawyers, teachers, activists, journalists, or indeed private individuals – face serious challenges and constraints. Whatever role they play, States must ensure the protection of all human rights defenders to carry out their work."
While the primary responsibility to protect the rights of human rights defenders, as Madam Sekaggya concurred, remains with States, EHAHRDP calls on NHRIs to implement the Special Rapporteur's recommendation to establish focal points or entities dedicated to human rights defenders with special attention to the most-at-risk groups of defenders. NHRIs and States should ensure that these focal points have adequate resources to enable them to provide meaningful support to HRDs when they need protection.
EHAHRDP has raised its concerns about the ongoing restrictions, harassment and attacks on human rights defenders in Sudan in a written statement submitted to the Human Rights Council. In December 2012, the Government closed down several civil society organisations. When a group of CSOs attempted to submit a petition against these and similar restrictions to the National Human Rights Commission, they were stopped by police and security services. The NHRC (which has not been accredited by the International Coordinating Committee of NHRIs) condemned the security forces' actions as "an attack on the integrity of the Commission and its immunity." EHAHRDP calls on the Government of Sudan to allow human rights defenders to operate freely in the country.
The Special Rapporteur expressed her concern at information she had received on cases of reprisals against HRDs cooperating with UN and regional human rights mechanisms, and reiterated once again her belief that such acts are unacceptable. She expressed her concern about "a trend of misuse or selective use of different types of legislation to restrict, criminalize and stigmatize the work of human rights defenders in all parts of the world."
Following the general elections that took place yesterday in Kenya, it is timely to reiterate the call made by the Special Rapporteur in her observations on communications transmitted to Governments, for the Government of Kenya to take all measures to ensure that human rights defenders will be able to monitor events freely, without restrictions and without fear of persecution in order to guarantee that all due processes are followed.
For more information, please contact:
Mr Hassan Shire, Executive Director on +41 793 375 875, +256 772 753 753, [email protected] or [email protected]
Ms Rachel Nicholson, Advocacy Officer on +256 778 921 274 or [email protected]