Ttaala is a comprehensive skill building project for human rights defenders (HRDs) illuminating the world of digital tools and strategies. We aim to equip civil society organisations with technical and strategic skills for the effective defense of human rights in the digital age. Human Rights Defenders within the East and Horn of Africa face many challenges including limited technical skills.
Ttaala's three-pronged project model focusses on: learning cohorts, our innovation incubator, and on public outreach.
The learning cohorts are targeted at human rights organisations with a little to intermediary digital competence . Selected participants receive a 3-step training on various technical skills, mostly focused on data and advocacy building. Between sessions, Ttaala visits the participant organisations to follow-up on their progress and specific needs.
The innovation incubator is aimed at previous participants of our learning cohorts or organisations with a higher skill level. Participants engage in a fast-paced workshop, where they develop an organisational project, such as databases or advocacy campaigns, with the help of consultants. We focus on no more than two organisations at a time, to maximise the impact of the innovation incubator.
In the third prong – public outreach – we aim to engage all previous and current participating organisations by carrying out unifying activities and events. Through networking, they can share their skills and experiences.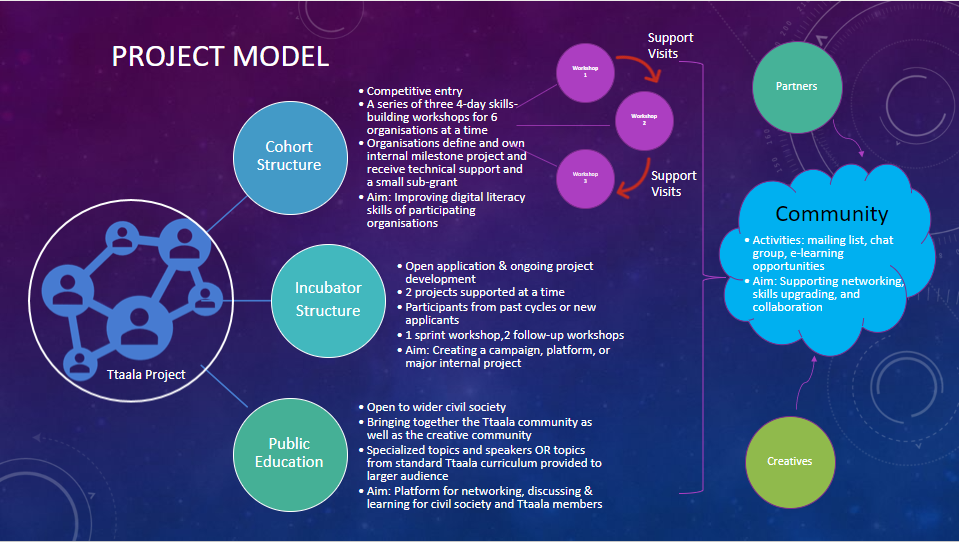 We aim to create a Ttaala community that includes past and present participants, creatives, and programme partners – animated by DefendDefenders to facilitate networking between organisations within the region and foster growth and  innovation through learning from each other.