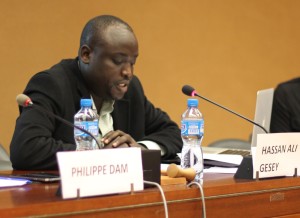 30th September 2015
Oral Intervention
East and Horn of Africa Human Rights Defenders Project (EHAHRDP)
Delivered by Mr Hassan Ali Gesey
Thank you Mr. President,
The East and Horn of Africa Human Rights Defenders Project and the Somali Independent Media Houses Association welcomes this interactive dialogue, and the report of Mr Tom Nyanduga on the human rights situation in Somalia.
As an independent journalist in Somalia, I join M. Nyanduga in his concern for the situation of the media in Somalia.
Journalists in Somalia are caught between a rock and a hard place. They are working in a space threatened by both the government of Somalia and the terrorist organization Al Shabaab.
Since 1990, at least 52 journalists have been killed in relation to their work. Journalists today face increased intimidation and physical attacks perpetrated by Al Shabaab in all part of Somalia, Somaliland and Puntland.
In July 2015, Al Ahlusuna group shut down 5 radio stations, arrested 7 journalists and seized their equipment.
Today, reporting on sensitive issues, such as corruption, human rights or Al Shabaab can mean risking our livelihood, and sometimes our life. Somalia is now the most dangerous country for journalists in Africa.
Mr President, I echo M. Nyanduga in his call for the government to ensure the protection of the rights to freedom of expression and particularly ensure that journalists in south central Somalia, Puntland and Somaliland are able to practice their profession freely and in a safe environment.
Proper investigations should be conducted into the killings of journalists and media workers and the alleged perpetrators fully prosecuted
The draft media bill being proposed by the government should be revised as recommended by the Independent expert. The media law should protect journalists, not make them more vulnerable.
I thank you.