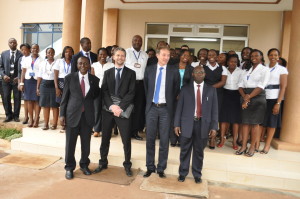 His Excellency Kristian Schmidt, Ambassador of the European Union to Uganda, paid a courtesy call to the East and Horn of Africa Human Rights Defenders Project (EHAHRDP), the Foundation for Human Rights Initiative (FHRI), and DanChurchAid at the Human Rights House in Kampala this morning. His Excellency Mr. Schmidt was welcomed by the Chairperson of EHAHRDP's Board, and Executive Director of FHRI, Mr. Livingstone Sewanyana, and Ms. Memory Bandera, Director of Programs and Administration of EHAHRDP, as well as staff members from all three organisations.
His Excellency Mr. Schmidt reiterated the EU's ongoing commitment to supporting civil society in Uganda, describing human rights as a "red line" that underpinned all of the EU's development partnerships. The Ambassador described his previous experience of working with human rights defenders globally, through his role as Director for Human and Society Development in the European Commission's Directorate-General for Development and Cooperation. His Excellency Mr. Schmidt expressed his appreciation for the work of EHAHRDP in supporting and protecting the rights of human rights defenders across the region.
Based in Kampala since 2005, EHAHRDP is the secretariat of a network of human rights defenders from Burundi, Djibouti, Eritrea, Ethiopia, Kenya, Rwanda, Somalia (and Somaliland), South Sudan, Sudan, Tanzania and Uganda. Through its three main programmes of Protection and Security, Capacity-Building, and Advocacy and Research, EHAHRDP seeks to strengthen the work of human rights defenders by reducing their vulnerability to the risk of persecution and by enhancing their capacity to effectively defend human rights. Ms. Bandera appreciated the support EHAHRDP has received from the EU delegation over the years and highlighted the financial support for the Somalia Human Rights Defenders Protection Program and for the Pan African Human Rights Defenders Network through the EIDHR.
The Foundation for Human Rights Initiative (FHRI) is an independent, non-governmental, non-partisan and not-for-profit human rights organization that seeks to enhance the knowledge, respect and observance of human rights, promote exchange of information and best practices through training, education, research, legislative advocacy, and strategic partnerships in Uganda. FHRI continues to advocate for a human rights friendly legislative and policy framework and human rights practices in order to improve the operating environment of human rights defenders in Uganda.
For more information on the work of EHAHRDP, please visit www.defenddefenders.org and follow us on Facebook www.facebook.com/humanrightsdefendersproject and Twitter @EHAHRDP.
For media enquiries, please contact: Mr Hassan Shire, Executive Director: +256 772 753 753, [email protected] and [email protected]