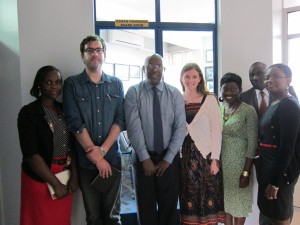 Katie Campo, the Africa Program Officer at the National Endowment for Democracy (NED), visited the East and Horn of Africa Human Rights Defenders Project (EHAHRDP) today to discuss the status of human rights defenders working in the region. Ms. Campo met with Hassan Shire, the Executive Director of EHAHRDP and other staff members in the Programs, Advocacy, Capacity Building and Protection departments, as well as the Pan Africa Human Rights Defenders Network (PAHRDN) Coordinator in the Osman Hummaida Board Room. 
NED's valuable and long-standing support to EHAHRDP and PAHRDN has supported vital interventions and activities across all departments. NED was the first organization to provide support to PAHRDN, and continues to do so. Mr. Shire applauded NED's ongoing commitment to supporting civil society organisations across the region.
Discussions were held around EHAHRDP's work across Africa, including our recent interventions to support human rights defenders in Sudan and South Sudan. In December 2013, EHAHRDP launched a report, 'Change will not come until we talk about reality': The Closing Space for Human Rights Defenders in South Sudan' and conducted a follow up mission in August 2014 to assess the current situation of human rights defenders in South Sudan. Over the past nine months, following the conflict that started in December 2013 in South Sudan, EHAHRDP has worked on over 40 emergency protection cases for South Sudanese human rights defenders. At the 27th Session of the United Nations Human Rights Council in September 2014, EHAHRDP organized a major side event focused on civil society perspectives on the current conflict, and worked with South Sudanese civil society activists to raise the profile of the South Sudan conflict to key international decision makers. The side event was attended by diplomatic representatives, government officials and civil society members, and a number of key concerns were articulated which fed into the Human Rights Council's Panel Discussion on South Sudan, held on September 24th in Geneva.
Mr. Shire reiterated EHAHRDP's ongoing commitment to the protection and promotion of human rights across Africa, including in Sudan and South Sudan.
buy cipro online galenapharm.com/pharmacy/cipro.html no prescription
buy kamagra effervescent online www.adentalcare.com/wp-content/themes/medicare/languages/en/kamagra-effervescent.html no prescription

He detailed EHAHRDP's engagement with the recent Interactive Dialogue with the Independent Expert on Sudan at the UN Human Rights Council, and our extensive advocacy efforts to raise the profile of the risks and challenges facing Sudanese human rights defenders. He also highlighted other interventions that have been done at the African Commission on Human and People's Rights.
buy nolvadex online www.adentalcare.com/wp-content/themes/medicare/languages/en/nolvadex.html no prescription

 
Ms. Campo shared her experiences working with human rights defenders in both Sudan and South Sudan.
buy levitra soft online www.adentalcare.com/wp-content/themes/medicare/languages/en/levitra-soft.html no prescription

She expressed her appreciation for the work of EHAHRDP in taking the lead to support and protect the rights of human rights defenders across the region.