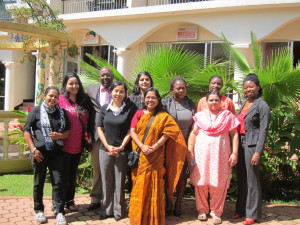 The East and Horn of Africa Human Rights Defenders Project (EHAHRDP) today launched an exchange project, Enhancing Knowledge Through Shared Learning for women human rights defenders from South Asia and East Africa. The program was officially launched by EHAHRDP's Executive Director, Mr. Hassan Shire and the Director of Programs and Administration, Mrs.Memory Bandera Rwampwanyi.
EHAHRDP through its East Africa Human Rights Program (EAHRP) in partnership with Programme on Women's Economic, Social and Cultural Right (PWESCR) organized this exchange with goal of creating a platform for exchange of knowledge in order to generate learning and partnering opportunities; develop a core group of leaders; and mainstream protection and security aspects into the work that women activists are conducting across the two regions.
This two part exchange project is designed for women activists working on issues connected to women's rights to meet, share experiences and network with similar organizations and individuals in Uganda.Through this exchange, participants will learn how organizations in both regions work on women's rights to develop leadership and to get women activists more actively involved as members of civil society. The project will facilitate two exchanges, each one week long. The first exchange has brought women activists from South Asia to Uganda and the second exchange will bring East African women activists to South Asia in January 2014.
During his opening remarks, Mr. Hassan Shire noted that, "women play an important role as women human rights defenders and are often doubly affected by being 'women' and also human rights defenders hence there is need to promote and protect their rights thus creating spaces for women for social change." He also acknowledged the fact that, "much of what has been gained in regards to women's human rights has been as a result of the efforts of women themselves–who have broken social norms and cultural taboos to speak out, leading brave and inspiring campaigns for their rights." There is a critical need to build capacity of women's organizations from the South for women's leadership and knowledge to emerge.
The South Asian delegation represents organizations from Bangladesh, India, Nepal, Pakistan and Sri Lanka. Participating organizations in Uganda include the following: Katosi Women Development Trust; Forum for Women in Democracy; Women Network for Human rights Advocacy; Ntulume Village Women Development Association; Uganda Human Rights Commission; Trans Support Initiative; Katende-Harambe Training Institute; and Strategic Initiative for Women in the Horn of Africa. In addition, a panel discussion on the development of the women's movement will be led by Prof. Grace Banyebya from School of Women and Gender Studies at Makerere University. EHAHRDP is implementing this project with funding from the Open Society Institute of East Africa (OSIEA).