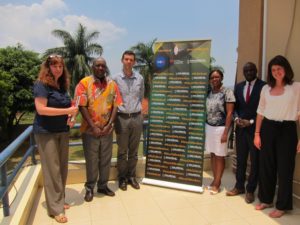 DefendDefenders was pleased to meet with Ms Doris Gebru-Zeilermayr, Deputy Head of Office and Governance Advisor of the Austrian Embassy Development Cooperation on 7 September to discuss progress and achievements after 2 years of joint work.
Austrian Development Cooperation's support of the Pan Africa Human Rights Defenders Network (PAHRDN), aiming to ensure a safe working environment for HRDs and to enable them to do effectively promote and protect human rights at the continental level, has had a significant impact on the work of human rights defenders across Africa.
Thanks to support from the Austrian Development Cooperation, DefendDefenders and PAHRDN have supported over 130HRDs on the continent, conducted research for a number of reports into the trends and patterns affecting the work of HRDs, conducted high-level advocacy at the UN Human Rights Council and the African Commission on Human and Peoples' Rights, and trained human rights defenders in a range of topics including digital and physical safety.
The Project also extensively contributed to the rebranding and 10 year celebrations of DefendDefenders in 2015, including by funding the production of three short documentaries on the achievements of the past decade.