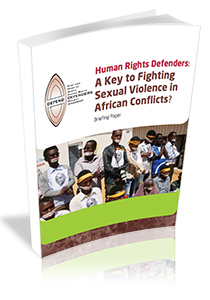 Ahead of the launch of the Global Summit to end Sexual Violence in Conflict in London on June 10th 2014, the East and Horn of Africa Human Rights Defenders Project (EHAHRDP) today releases a new briefing paper outlining the pivotal role of human rights defenders in advocating for justice, accountability, and the rights of victims of sexual violence.
'Human Rights Defenders: A Key to Fighting Sexual Violence in African Conflicts?', explores the unique challenges facing human rights defenders working on issues of sexual violence in conflict environments. In particular, the paper explores the work of women human rights defenders and human rights defenders working in zones of armed conflict in the East and Horn of Africa region, and highlights the role which these defenders often play in establishing transnational advocacy networks, and in connecting victims with necessary medical, legal and psychosocial services. The paper includes case studies on the UN Declaration on Women Human Rights Defenders as well as stories from Sudan and Somalia.
The Global Summit to end Sexual Violence in Conflict,at which EHAHRDP's Executive Director Hassan Shire has been invited to contribute as an expert speaker, is being co-hosted by the UK Foreign Secretary William Hague and the Special Envoy of the UN High Commissioner for Refugees, Angelina Jolie. The Summit aims to translate the recent political commitment expressed by 148 countries endorsing the Declaration of Commitment to End Sexual Violence in Conflict at the UN General Assembly in September 2013, into meaningful and practical action.
Human rights defenders working to document cases of sexual violence in conflict affected areas are often the first (and sometimes only) investigators on scene. Moreover, they invariably have physical access, an understanding of culture, and a pre-existing relationship of trust with communities, which enables the collection of sensitive information. Without the investigative and documentation work of local human rights defenders, many more cases of sexual violence in conflict would remain unreported.
"This summit represents the first concrete steps by the international community in tackling the scale and complexity of the problem of sexual violence in conflict, and moving from political rhetoric towards action" said EHAHRDP's Executive Director Hassan Shire. "The vital work of human rights defenders in this area should be acknowledged, as should the need to provide radically enhanced support for human rights defenders working on the front lines of these issues, in Africa and globally."