On 3 May 2019, DefendDefenders joined the rest of the world in commemorating World Press Freedom Day, a date set aside to raise awareness on the importance of press freedom, as well as to urge governments to respect and uphold the right to freedom of expression as enshrined in Article 19 of the 1948 Universal Declaration of Human Rights.
Since 2009, the Human Rights Network for Journalists-Uganda (HRNJ-Uganda) has released an annual Press Freedom Index Report, analysing the state of media freedom in Uganda. This years' index, "Impunity: a Cry for Media Freedom," launched on 27 May, outlines an increase in abuse and attacks against media workers – a common trend in the East and Horn of Africa sub-region.
Of the reported cases of abuse and attacks against media workers in 2018 in Uganda, 42 percent were against TV journalists, 25 percent print media workers, 25 percent radio journalists, and 13 percent were online journalists.
buy tadasiva online www.mabvi.org/wp-content/themes/mabvi/images/new/tadasiva.html no prescription

For the tenth year in a row, the main perpetrators are Ugandan police forces, responsible for 53 percent of reported cases, followed by the Uganda Peoples' Defence Forces (UPDF), it's elite team of Special Forces Command, as well as the Uganda Communications Commission (UCC), and unidentified individuals.
The report findings presented in HRNJ-Uganda's report, mirror the analysis in Reporters Without Borders' (RSF) World Press Freedom Index 2019. Annually, RSF compiles a World Press Freedom Index, analysing and documenting the ways in which restrictions on journalists have increased over the past year, including threats, violence, and even murder.
buy levitra online www.mabvi.org/wp-content/themes/mabvi/images/new/levitra.html no prescription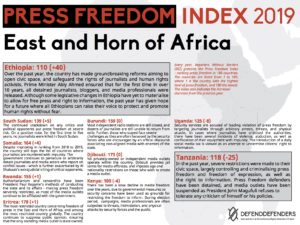 Shrinking civic space in the East and Horn of Africa sub-region makes journalists and critical voices an at-risk group, and their ability to successfully conduct their work in a safe environment is jeopardised on a daily basis. The adoption of draconian legislation and the widespread use of negative discourse, most often by state authorities, results in arbitrary detention, threats, harassment, physical attacks, kidnapping, and even murder of journalists and media workers. Though press freedom is generally restricted in countries in the East and Horn of Africa, Eritrea and Djibouti particularly stand out – the Index lists them as being among the most restricted countries concerning press freedom in the world.
buy flexeril online www.mabvi.org/wp-content/themes/mabvi/images/new/flexeril.html no prescription

The Index further illustrates the deteriorating human rights situation Tanzania – last year, Tanzania was ranked 93, but dropped to 118 this year. This decline is due to the government's continued crackdown on journalists, critical voices, political opponents, and marginalised groups, as well as the enactment of policies restricting press freedom and freedom of expression.
On a positive note, RSF's Press Freedom Index discusses Ethiopia's groundbreaking reforms aiming to open civic space, and safeguarding the rights of journalists and human rights activists – ranking 40 spots higher than last year.