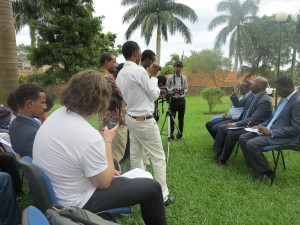 The East and Horn of Africa Human Rights Defenders Project condemns the killing of Mohamed Ibrahim Rageh in Mogadishu yesterday, and expresses its deep condolences to Mr Rageh's family and friends.
Mr Rageh, who was working for the Somali National Television (SNTV) and Radio Mogadishu, was shot dead outside his home by unknown assailants in Dharkenley district in Mogadishu around 5:30pm on Sunday 21st April 2013. He had recently returned to work in Mogadishu, having left the country in 2009 due to insecurity.
"Rageh had been living in Kampala before going back to Mogadishu to serve his country," said Hassan Shire Sheikh, Executive Director of EHAHRDP. "We knew him well and are deeply saddened, shocked and angered by his untimely death."
Mr. Rageh is the fourth journalist to be killed in Somalia so far this year. Mr. Abdihared Osman Aden and Ms. Rahmo Abdulkadir were both killed in targeted attacks in early 2013 and Mr. Mohamed Ali Nuxurkey was killed in by car bomb targeting a senior Somali official on 18th March 2013. In 2012, 18 media workers were killed in the country. Other human rights defenders have also come under attack. Professor Mohamed Mahmoud Afrah, Head of the Somali Lawyers Association, and Abdikarin Hussein Gorod Lower, a lawyer, were killed in an attack on Banadir Regional Court in Mogadishu on 14th April 2013. They had successfully defended the journalist Abdiaziz Abdinur Ibrahim and a woman prosecuted for reporting her rape by government soldiers.
The Government of Somalia has taken various measures recently aimed at ending impunity for the killing of media workers, including the recent announcement of the establishment of an independent panel to investigate the killings of media workers in the country. EHAHRDP calls on the authorities to give the investigating team all necessary support to carry out their mandate. EHAHRDP also urges the Government to ensure that all measures taken to protect journalists in Somalia and to end impunity for attacks on media workers conform to fundamental human rights standards.