After 20 years of war, there is barely a soul or a structure unscarred in Mogadishu
Jack Hill for The Times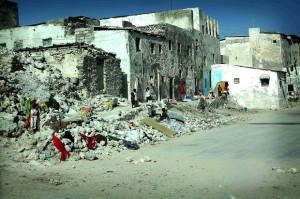 After 20 years of war, there is barely a soul or a structure unscarred in Mogadishu Jack Hill for The Times
Jerome Starkey Mogadishu
Published at 12:01AM, August 2 2012
From the rubble of a beachside hotel in Mogadishu's old town, Hassan Shire gazed down at the cove where he first learnt to swim, and then at the terrace, where the nightclub used to be.
His city has changed a lot since he last danced along its shore: gone are the bars crowded with young couples; the Urubah Hotel is a magnificent shell, where soldiers sleep in tents, in suites that have no walls.
After 20 years of successive wars, there is barely a soul or a structure unscarred. Yet for the first time since 1968 there is an election — of sorts — taking place inside Somalia. It is a rare chance for Somalia choose its future and, depending on what happens in the next few weeks, it may even start to heal some of those scars.
For Hassan Shire, regional co-ordinator of the Human Rights Defenders Network, that means purging Somali politics of the people behind the violence.
buy nexium generic noprescriptionbuyonlinerxx.net/nexium.html over the counter

"The warlords must not have the chance to force themselves into politics," he said.
On Tuesday he launched coalition of civil society groups, Ifiso, to vet the potential MPs, presidential candidates and members of the Cabinet. Their goal is to make sure "those who have perpetuated and profited from the Somali civil conflict do not secure power in the post-conflict political dispensation".
They are likely to be busy. Mogadishu's two most prominent power-brokers, President Sheikh Sharif Ahmed and the Speaker of Parliament, Sharif Hassan, both faced a number of corruption allegations from the United Nations.
buy Buspar generic noprescriptionbuyonlinerxx.com over the counter

"Under [their rule], the systematic misappropriation, embezzlement and outright theft of public resources have essentially become a system of governance," the report to the Security Council said.
Mr Shire has more than 220 people on his list of people deemed unsuitable for public office – most have blood on their hands. But his group has no legal mandate and Somali politicians have a poor track record for standing down at the behest of a human rights lawyer.
Abdurahman Hosh Jibril, the minister for constitutional affairs, hinted it would fall on the international community, particularly the UN, to sanction high-profile candidates who have broken the law.
"It depends on the political will of the Somali people and our international partners," Mr Jibril said. "That support should extend further … If we are going to start a new page based on fairness and equity, we should also send a message that we will not tolerate any more human rights violations."
The electoral process is far from perfect. Most people won't get to vote. Instead 135 traditional elders – many of whom are disputed — will select 225 members of parliament.
The parliament will elect a speaker, and together they will pick from more than 37 presidential candidates to elect a new head of state by August 20. The President will then appoint a Prime Minister, who will seek approval of the parliament to appoint a Cabinet.
"If the same people, it's not transition," said Mohamed Cali, a presidential hopeful, echoing the fears of many that the next three weeks will serve as little more than a procedural rubber stamping exercise.
Mr Shire rejected calls to reconcile with the warlords, even less to offer amnesties. "The only thing that achieves is [that] it teaches people in a culture of impunity, you have to kill more people to get to the political table," he said.
The Mogadishu he grew up in "was like any other place in Africa, or the world", he said. It is unlikely to earn that mantle soon, but the next three weeks might be its best shot at getting back there in almost half a century.
"It's a perfect opportunity to start again on a clean slate," said Mr Jibril. "If we don't get it right this time, I don't think we will get it right another time."