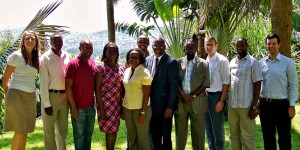 Somalia: Planning Meeting Held for New Project Supporting Human Rights Defenders
Representatives of the East and Horn of Africa Human Rights Defenders Network (EHAHRDP), Peace and Human Rights Network (PHRN) and Protection International (PI) met today in Kampala to consult prior to the launch of a 3-year project dedicated to building national capacity within Somalia to protect human rights defenders. The project, implemented by the three organizations in conjunction with the Somali Human Rights Defenders Network (SOHRIDEN), is supported by the European Union as a part of their commitment to democracy and human rights.

The project aims to strengthen monitoring and documentation on violations against journalists and human rights defenders, advocacy to national and international stakeholders to protect and grow the space to safely defend human rights in the country, and to promote security management for human rights defenders while offering protection when necessary.
Pictured: Hassan Shire Sheikh, Tabitha Netuwa, Neil Blazevic, Rosette Arinaitwe (EHAHRDP), Arjan Van Der Waal, Ben Kabagambe, Nora Rehmer, Francis Kagai, Stephen Gitahi Githuku (PI), and Abdidahir Adan Dirie, Solomon Ibrahim Ibrein (PHRN)