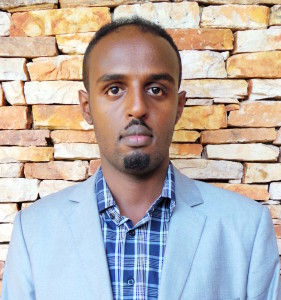 The chairman of Somaliland's Human Rights Centre, Guleid Ahmed Jama, who is currently detained in Hargeisa's Central Prison and yesterday commenced a hunger strike, should be immediately and unconditionally released said the East and Horn of Africa Human Rights Defenders Project (EHAHRDP) in a statement released today. This is EHAHRDP's second public statement on Guleid's case, and reflects the urgency of his present situation.
Guleid began a hunger strike yesterday, after a delay in issuing court proceedings by the Somaliland government. He is protesting against his imprisonment, the baseless charges being levelled against him, and his lack of access to a court or any mechanism for judicial review.
The East Horn of Africa Human Rights Defenders Project is extremely concerned at Guleid's ongoing detention, and his health. He is being detained solely for peacefully exercising his right to freedom of expression. His arrest, on 18 April, followed an interview he gave to the BBC days earlier, during which he discussed recent executions by the Somaliland authorities and the need for judicial reforms.
After his initial detention at the Criminal Investigation Division, Guleid was moved to Hargeisa's Central Police Station on 19 April. His bail hearing took place on the same day and was reportedly granted, but police officers at the station refused to release Guleid. Reportedly, this decision was made on the basis that an appeal had been filed by the Attorney General's Office against the court's decision to grant bail. On 20th April, Guleid was transferred to Hargeisa Central Prison and informed his next hearing would be scheduled in 7 days. Until now, Guleid has not yet appeared before a court and, on 28 April, commenced a hunger strike. Guleid plans to continue his hunger strike until he is brought before a court to consider his case.
"Eight days ago, EHAHRDP issued an urgent public call for Guleid's immediate release", said Hassan Shire, EHAHRDP's Executive Director. "Since that time, our call has been ignored by Somaliland authorities. He is being held solely for peacefully exercising his right to freedom of expression, and should not be in prison. We once again call on the Somaliland authorities to show respect for due process and the rule of law, and release him immediately and unconditionally".
Guleid has been accused of subversive or anti-national propaganda, intimidation of the public and publication or circulation of false, exaggerated and tendencious news capable of disturbing public order, charges which have no factual or legal basis.
To read EHAHRDP's Press Statement of 21st April 2015, please see:
https://defenddefenders.org/2015/04/somaliland-release-human-rights-defender-guleid-ahmed-jama/
For more information, please contact:
Hassan Shire, Executive Director, East and Horn of Africa Human Rights Defenders Project on: [email protected] or +256 772 753 753
John Foley, Advocacy & Research Manager, East and Horn of Africa Human Rights Defenders Project on: [email protected] or +256 789 650996/ +44 7944 252 894