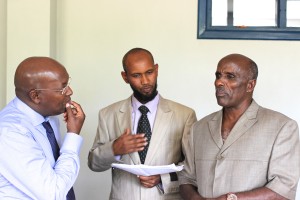 From left to right: Hassan Shire, Executive Director EHAHRDP, Yusuf Abdi Adan and Mohamud Garaad Mohamed from Somaliland National Human Rights Commission[/caption]
EHAHRDP with the support of Social Research and Development Institute (SORADI) in Hargeisa, Somaliland are facilitating a 5-day study tour for Mohamud Garaad Mohamed, Deputy Chairman and Yusuf Abdi Adan, Commissioner of the Somaliland National Human Rights Commission (SLNHRC).
The aim of the study tour is to expand the reach of the SLNHRC to cope with the growing demand for human rights observation, advocacy, protection and security managment for human right defenders and civil society members of the Somaliland society.


The week long study tour will also include meetings with representatives from Human Rights Centre of Uganda and the Ugandan Human Rights Commission.