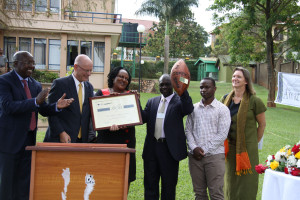 One of Uganda's leading human rights defenders, Mr. Livingstone Sewanyana, Executive Director of Foundation for Human Rights Initiative, was honoured in a surprise awards ceremony this afternoon in Kampala. The African Human Rights Defenders Award recognizes individuals from Africa bravely working to advance human rights in the face of adversity..
On 22nd October 2013, Pan African Human Rights Defenders Network (PAHRDN) organised the first edition of the African Human Rights Defenders Awards in Banjul, The Gambia, in a ceremony that also marked the celebration of 15 years of the UN Declaration on Human Rights Defenders.  The awards were presented to five human rights defenders – one from each sub-region of Africa – in recognition of their work towards the advancement of human rights in Africa. Mr. Sewanyana's award was accepted in his absence by Ms Sheila Muwanga, Deputy Director, FHRI.
Mrs. Margaret Sekaggya, UN Special Rapporteur on human rights defenders, Hon. Commissioner Reine Alapini-Gansou, Special Rapporteur on human rights defenders in Africa and Mr. Hassan Shire, chairperson of PAHRDN and the East and Horn of Africa Human Rights Defenders Network formed the jury that selected the eventual winners, after nominations were received from across the continent.
"We are honouring Mr. Sewanyana for his tireless efforts to promote respect for human rights in Uganda and in the wider East and Horn of Africa region," said Mr Shire.
H.E Alphons Hennekens, Ambassador of the Kingdom of Netherlands in Uganda, formally presented the award to Mr. Sewanyana at a ceremony held at Human Rights House, Nsambya on Thursday 31st October 2013 that highlighted the important work of human rights defenders in Uganda.
EHAHRDP applauds all the winners: Ms. Yara Salam (North Africa), Mr. Imam Baba Leigh (West Africa), Ms. Paulette Oyane-ondo (Central Africa) and Ms. Lucia Da Silveira (Southern Africa) for their commitment to promote and protect human rights in Africa, despite the many challenges and hurdles they face.
For more information, please contact:

Mr. Joseph Bikanda, Coordinator PAHRDN on [email protected] or +256 783 609 688
Mr Hassan Shire, Executive Director on [email protected] or +256 772 753 753
Ms Rachel Nicholson, Advocacy Officer on [email protected] or +256 778 921 274