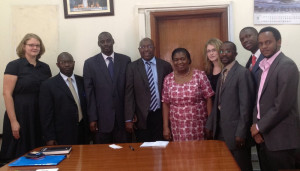 The Minister of Internal Affairs, Gen. Aronda Nyakairima, met with nine human rights defenders at his offices in Kampala this morning.
buy vardenafil online buy vardenafil no prescription

As the new Minister begins his work, the delegation sought to emphasise the important contribution of civil society to the country and the need to fully integrate respect for human rights into the work of the Ministry of Internal Affairs.
buy viagra super active generic viagra4pleasurerx.com/viagra_super_active.html over the counter

It is hoped that the meeting will mark the start of an ongoing open and honest dialogue and working relationship.
buy viagra generic viagra4pleasurerx.com over the counter

The organisations represented at the meeting were the East and Horn of Africa Human Rights Defenders Project, the Human Rights Centre Uganda, Foundation for Human Rights Initiative, Human Rights Network Uganda, Human Rights Network for Journalists Uganda and Amnesty International.