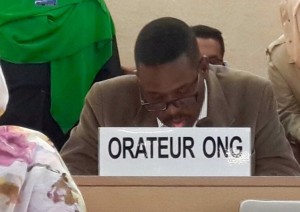 Oral Intervention
East and Horn of Africa Human Rights Defenders Project (EHAHRDP)
Delivered by Mr Badawi Mohamed
Thank you Mr. President,
The East and Horn of Africa Human Rights Defenders Project and the African Centre for Peace and Justice Studies welcomes this interactive dialogue, and the report of Mr Aristide Nononsi on the human rights situation in Sudan.
Our two organisations are extremely concerned with the widespread crackdown on civil society in Sudan.
As documented by Mr Nononsi and our organisations, the election period saw the government and its security forces obstruct the work of HRDs by subjecting them to physical and digital attacks, and carrying out arbitrary arrests and kidnappings.
A number of media houses have seen their journalists interrogated, their newspapers confiscated, their websites hacked and their operations suspended. NGOs have also been raided and shut down.
Obstructive legislation such as the Organization of Humanitarian and Voluntary Work Act (2006), Press and Publications Act (2009), and the National Security Act (2010), were used in the election to shut down NGOs and to arrest and charge journalists and HRDs. During the election period in Sudan, at least 5 HRDs were arrested and 4 NGOs were raided, 3 of which were shut down.
Many have had to flee the country or abandon their work as human rights defenders.
Mr President, we echo Mr. Nononsi's call for the government of Sudan to take heed of the recommendations of the mandate holder and his predecessors.
We also express our disappointment at the lack of transparency and of genuine engagement with civil society and HRDs in the course of the discussions on the content of a new resolution on Sudan under item 10 at this session of the Council.
We urge the Council to strengthen the special procedure mandate by extending it as a Special Rapporteur on the situation of human rights in the Sudan under item 4, with a mandate to monitor and publicly and periodically report on violations of human rights.