Dear friends and colleagues,
Defending human rights is associated with various risks including: intimidation, harassment, physical threats, stress, depression or burn-out. Women human rights defenders (WHRDs), defined as female HRDs or HRDs of any gender working in defence of women or gender issues, are often confronted with stigma, smear campaigns, threats to their families or gender-based violence. DefendDefenders seeks to protect HRDs including WHRDs and equip them with skills to carry out their work effectively.  In the lead up to International Women's Day, celebrated annually on 8 March, we initiated a campaign to raise awareness of the specific threats WHRDs face and the types of protection available to them.
UN Women's theme for International Women's Day 2021 is "Women in leadership: Achieving an equal future in a COVID-19 world." Indeed, COVID-19 has pushed us to rebuild, and we can rebuild better putting human rights at the forefront. To achieve a future where human rights are respected and upheld, we need diversity, we need to hear all voices, and we need the leadership of WHRDs. That is why we #StandWithWHRDs to keep them #SafeButNotSilent!
Yours in solidarity,
Hassan Shire
Executive Director, DefendDefenders
Human Rights Defender of the Month: Sandra Aceng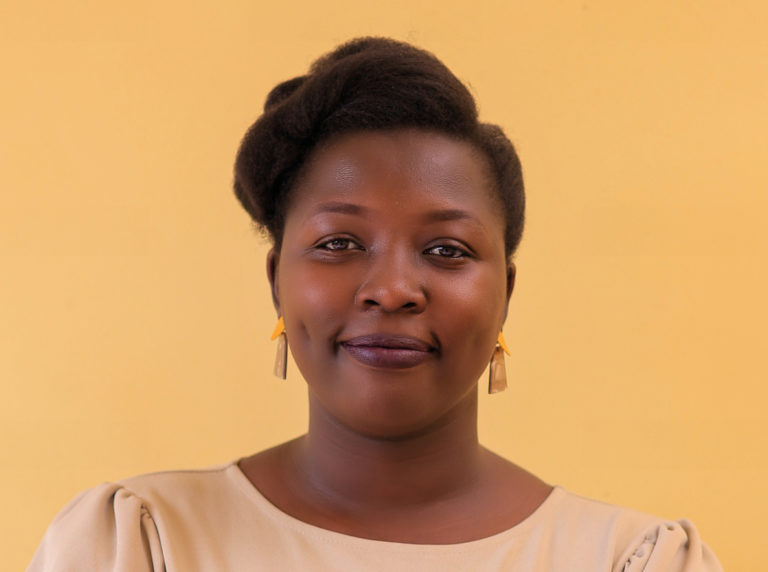 Sandra Aceng is an outspoken and energetic woman human rights defender (WHRD). She is a gender and ICT researcher and policy analyst for Women of Uganda Network (WOUGNET) where she coordinates the Women ICT Advocacy Group, advocating for internet access for all. In addition, she writes on various platforms such as Global Voices, Freedom House, and Impakter Magazine. Her regular contributions to Wikimedia Uganda often focus on profiling WHRDs, female politicians, and journalists. "After Uganda's January [2021] elections, many female politicians joined parliament. We want to increase their online visibility. For example, most of the profiles on Wikipedia  are on men, so we need to close the gender digital divide," Sandra says.
Having grown up in the digital age, the 27-year-old is a digital native and mainly focuses on defending women's rights online. Her employer WOUGNET empowers women through the use of ICT for sustainable development. Their three main pillars are information sharing and networking, gender and ICT policy advocacy, and providing technical support to WOUGNET staff, beneficiaries, and members. As a Programme Manager, Sandra analyses internet and ICT policies to ensure that they are gender inclusive. She has noticed that oppressive patriarchal structures are shifting and perpetuating online. Part of her work is to document women's rights violations and gather evidence, but she has also learned that it's not enough to just talk about statistics. To truly understand the problems, it is important to talk to the victims and listen to find out what they face, she says.
The Lawyers for Lawyers Award aims to honour lawyers who have made significant contributions to the protection of the rule of law and human rights in challenging environments. They are now accepting nominations for their 2021 awards.
Updates from DefendDefenders:
Ahead of the 46th session of the UN Human Rights Council (HRC46), lasting from 22 February – 23 March, DefendDefenders led the development and coordination of a joint civil society letter on South Sudan, calling for the extension of the UN Commission on Human Rights in South Sudan's extension.
On 9 February 2021, together with HRCnet and ISHR, we hosted an online reception for the incoming and former Presidents of the UN Human Rights Council, H.E. Ms. Nazhat Shameem Khan (Fiji) and H.E. Ms. Elisabeth Tichy-Fisslberger (Austria), respectively. HRC46 will for the first time be held entirely virtually.
On 12 February, DefendDefenders and AfricanDefenders launched their #StandWithWHRDs campaign.
DefendersTech and our protection team trained or followed up with 75 HRDs.
In February, DefendDefenders' protection team received 49 requests for emergency support. 26 requests were approved, nine rejected, three referred, and 11 remain pending.

In February, AfricanDefenders received five applications for support, which are all under review.
Human rights updates from the East and Horn of Africa sub-region:
The Burundi National Communication Council (CNC) lifted a ban on Bonesha radio. Bonesha radio and other local media outlets had been banned in 2015 after accusations of playing a role in the failed coup against former President Pierre Nkurunziza. Current President Evariste Ndayishimiye called on the CNC to discuss the possible reopening of media houses.
On 5 February, protests broke out in different parts of Oromos regional state. Protestors demanded the release of three opposition politicians. According to eyewitnesses, many protestors were arrested and beaten by the police. At least one death was reported.
An Ethiopian journalist, Lucy Kasse, was attacked in her home by three armed men and questioned on her connection to Tigray People's Liberation Front (TPLF). The attack reportedly happened after Lucy published a piece on alleged cases of rape by Eritrean forces.
On 1 February, former Nairobi Governor Mike Sonko was charged with assault and robbery concerning alleged offenses committed in 2019. However, Sonko's lawyers and others stated that his arrest was linked to statements he recently made at a roadside rally concerning President Uhuru Kenyatta.
A lobby group documented eight killings of journalists and 88 attacks between 2009-20 According to Article 19 at least three of the killings were connected to reports the journalists had worked on.
On 17 February, the trial of 'Hotel Rwanda hero' Paul Rusesabagina began – he is facing 25 years in prison. The trial has drawn international scrutiny and his family fears the outspoken government critic will not get a fair trial.
On 19 February, security forces fired gunshots at protestors against delays of the country's elections. Reports suggest at least four people, including soldiers, were killed, and three were wounded in the gunfight between military personel and protestors. Four days later, the Somali government banned protests in Mogadishu due to rising COVID-19 cases and security threats. The decision came after the opposition called for another anti-government rally.
The National Union of Somali Journalists (NUSOJ) condemns the continued campaign against independent journalism after Puntland security closed Somali Television Network (STN) station in Garowe and arresed two journalist. Freelance journalist Kilwe Adan Farah who had already been held in jail for 60 days is facing new charges by the Puntland authorities. He is accused of delinquency, circulating false news and disturbing public order, amongst other things.
A report released by Amnesty International in February 2021, has found that South Sudan's National Security Service (NSS) is using abusive surveillance to target journalists, activists and opposition. The two-year investigation found that the surveillance, including infiltration and phone tapping, is leading to a climate of fear and self-censorship.
Sudanese authorities arrested more than 100 people during a crackdown on protestors who took to the streets in Darfur and other parts of Sudan to demonstrate against rising costs of living. The protests allegedly turned violent in the state of North Kordofan, when demonstrators begun burning public and private property. The government declared a state of emergency, imposing a 6PM- 6AM curfew.
On 17 February, four journalists and three members of parliament (MPs) were severely beaten by police and police army outside the office of the UN high commisioner for human rights. The journalists and MPs were waiting to be addressed by Bobi Wine after he presented a petition against the abduction of his supporters.
Ugandan academic and political activist, Dr Stella Nyanzi, fled to Nairobi, Kenya. Prof George Luchiri Wajackoyah, her lawyer confirmed this and cited political persecution by President Yoweri Museveni's government for the move.