Dear friends and colleagues,
Governments have a monopoly on the use of force so as to protect a social contract with its people. This monopoly, however, does not legitimise police brutality. Beatings, racial abuse, unlawful killings, torture, or indiscriminate use of riot control agents at protests are in violation of binding international human rights law. 
This year has been filled with a lot of police brutality: the violent enforcement of COVID-19 measures in our sub-region, the brutal responses to Black Lives Matter protests worldwide or the violence ahead of elections in Tanzania and Uganda. In all these cases, the government has abused its monopoly and illegitimately disproportionate force. 
This month has seen dramatic developments in Ethiopia's Tigray region, with thousands of people displaced due to violence between government forces and rebel groups. I implore Ethiopia's government, led by a Nobel Peace Prize winner nota bene, to remember that the social contract with its people may provide it with a monopoly on force, but not with a blank cheque to use that force. 
Yours sincerely,  
Hassan Shire
Executive Director, DefendDefenders
Human Rights Defender of the Month: Meskerem Geset Techane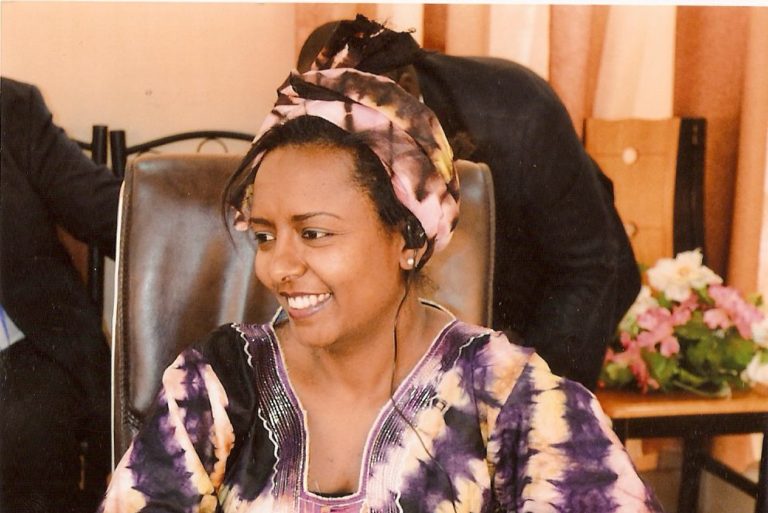 Meskerem Geset Techane has fought injustice since she can remember: as a child she was known to stand up for herself and others, whether against bullies, teachers, her parents or church. Fighting injustice and promoting human rights is a common theme in the lawyer's life. "It's a passion, promoting human rights is not something you choose to do for a living or as a career opportunity. It's more of a calling for me."
A calling that has led Meskerem to impressive places. In Ethiopia, she served as a High Court Judge, worked as a pro-bono lawyer, and founded or spearheaded several civil society initiatives, most recently Lawyers for Human Rights and TIMRAN (She Leads). At the African level, she worked with African Union human rights bodies and African human rights lawyers. She initiated a continent-wide effort on human rights lawyering and strategic litigation. Meskerem is also active at the international level: she is currently a UN Human Rights Council's distinguished Rapporteur mandate holder appointed with a global mandate in the UN Working Group on Discrimination against Women and Girls. 
That

on 25 November, 

the 

International Day for the Elimination of Violence against Women, a global campaign c

alled 16 Days of Activism Against Gender-Based Violence is launched? 

We are sharing the stories of victims of online gender

-based violence with our #SayNoToOnlineGBV campaign on 

Twitter

, 

Facebook

, and 

Instagram

.

Updates from DefendDefenders:
DefendDefenders

 advocacy team

 took part in the

 annual 

HRCnet

 meeting 

which

 took place 

f

rom 23-27 November

;

 

Together with CIVICUS, DefendDefenders prepared a joint report ahead of 

Rwanda's Universal Periodic Review;

 

DefendDefenders hosted a workshop from 26-27 November, for civil society organisations working on civil and political rights, to equip them with knowledge on the UPR process ahead of Uganda's review in 2021

;

 

Together with AfricanDefenders, Encrypt Uganda, Women

 of Uganda Network, 

Digital Human Rights Lab, and Digital Literacy Initiative

, DefendDefenders has created a campaign for 16 days of activism against 

gender-based violence (GBV). 

As part of o

ur #SayNoToOnlineGBV campaig

n, we share testimonies every day 

for 16 days. The campaign will end on Human Rights Day, 10 December, 

with a workshop on digital security for victims of online GBV

 and the publication of a policy brief.

 

From 9-13 November, DefendersTech conducted an online Ttaala 

capacity-building w

ebinar, "The Digital Movement & the "New Normal

,

"

 

to convey skills and inspiration to HRDs whose work is increasingly shifting online;

 
DefendersTech conducted two organisational audits for two civil

society organisations

and

held a strategic partner meeting with Uganda Law Society;

 

In November, our protection team carried out

 five

 workshops and trainings

; and

 

DefendDefenders' protection team

 received 39 

requests for protection, of which 

30 were approved, 

two

 rejected, 

three

 referred

 to like-minded organisations

, and 

four remain

 pending.

 
Updates from AfricanDefenders:
Together with partners,

 

AfricanDefenders 

and DefendDefenders

 hosted a side event during the ACHPR

67

 on the 

State of Civic Space and Elections in Africa in the context of COVID-19;

 

In November, AfricanDefenders engaged in several meetings to share experiences and best 

practices

:

 
Safe Havens Conference Global Stream 2020

;

 

Youth Dialogue on engagement with the Pan-African Parliament Youth Caucus;

 

Annual meeting of the European Union Temporary Relocation Programme;

 
Want to know what AfricanDefenders did in September and October? Check out their 

newsletter

.
Human rights updates from the East and Horn of Africa sub-region:
On 20 November, a global campaign was 

launched

 to free HRD Germain 

Rukuki

, a prisoner of conscience in Burundi.

Burundi's

 government 

ordered

 

the office of the UN special envoy to shut down by end of the year. UN Secretary General Antonio Guterres

 urged 

to keep the

 office in operation for another year, due to the fragile situation.
Djibouti's only independent news source, 

La 

Voix

 de Djibouti

, 

will be 

awarded

 

Reporters without Borders' (RSF) Prize of Courage

.
Eritrea 

ranked

 7

th

 

worst African countr

y

 to live in as a girl 

in

 African Child Policy Forum

's report

.
On 4 November, 

Prime Minister Abiy Ahmed 

ordered

 a military intervention

 to engage with the Tigray People's Liberation Front (TPLF)

.

 

Mass casualties have been reported in different parts of 

Tigray

, while thousands of Ethiopians have fled to neighbouring Sudan since last week.

 A six-month long state of emergency has been declared.
Paul Rusesabagina, inspiration for the film Hotel Rwanda, 

is on trial on terrorism charges. He 

alleges

 to have been 

kidnapped

 from abroad, before being arrested and charged.
Astaan

 TV

 owner and CEO 

Abdimanan

 Yusuf 

was 

sentenced

 

to

 five years in prison and a fine, without giving any grounds. 

He had been in custody since July. His popular TV channel has been suspended indefinitely.

 Rights groups and media houses 

fear

 for press freedom ahead of the upcoming election season.
The Committee to Protect Journalists has 

called

 on South Sudanese authorities to immediately release journalists 

Zechariah 

Makuach

 

Maror

 and Jackson 

Ochaya

 and halt all acts of intimidation against the press

.
At least four people were 

killed

 in relation to Tanzania's 30 October elections, according to Human Rights Watch. 

Together with Amnesty International, they are 

urging

 for credible investigations into these killings and other election-related abuses.

 

They are calling for these

 repressive practices to 

end

.
On 18 November 

presidential candidate Robert Kyagulanyi (known as

Bobi

 Wine)

,

 was 

arrested

, ahead of a planned campaign rally

for allegedly contravening COVID-19 regulations.

The news sparked protests which was met with live ammunition: in three days at least 45 people were killed, dozens injured, and over 800 arrested.

 An

other opposition presidential candidate

,

Patrick

Oboi

Amuriat

,

was

arrested

twice in two days in

Gulu

.

 

Police violence

has

increased

rapidly

since

 the presidential campaigns formally started

and Uganda's press is experiencing a

crackdown

.
Ugandan Trans activist

Chris

Lordson

was

awarded

the

prestigious

 Canadian

 

Steinert and 

Ferreiro

 Award.