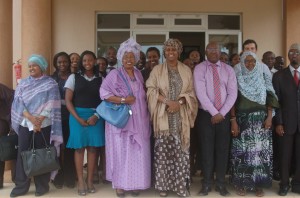 Her Excellency Fauzia Yusuf Haji, Deputy Prime Minister and Foreign Minister of the Federal Republic of Somalia, along with her delegation including H.E. Somali Ambassador to Uganda Ahmed Sayid Sheikh Dahir, paid a courtesy visit to the East and Horn of Africa Human Rights Defenders Project (EHAHRDP) and Foundation for Human Rights Initiative (FHRI) at Human Rights House in Kampala this afternoon, where she was welcomed by the Director of EHAHRDP's Board, Mr. Livingstone Sewanyana, Executive Director of FHRI, and Mr. Hassan Shire, Executive Director of EHAHRDP and Chairperson of the Pan-African Human Rights Defenders Network, as well as human right defenders from both of the organisations.
The courtesy call was after a meeting of the Heads of State and Government of Troop Contributing Countries to the African Union Mission in Somalia (AMISOM), Ethiopia and Somalia in Kampala, Uganda on Sunday August 4th 2013 under the theme "Towards a harmonized Approach by the Stakeholders in Building a Peaceful Somalia".
Her Excellency expressed her thankfulness for the work of EHAHRDP in working towards the protection and promotion of human rights and human right defenders in Somalia and would like to strengthen the collaboration with EHAHRDP and other human right organisations in the region.