DefendDefenders (East and Horn of Africa Human Rights Defenders Project) was honoured to accept the Richard C. Holbrooke Leadership Award at Refugee International's Annual Gala in Washington D.
C. this Tuesday.
The award, which is presented to leading humanitarian organisations and individuals who enhance life-saving assistance and protection for displaced people, recognises their commitment to working in humanitarian crisis zones.
This year, DefendDefenders was nominated by Refugees International for its work supporting human rights defenders (HRDs) in exile across the East and Horn of Africa, particularly from Burundi and South Sudan. The prestigious award represents important acknowledgement of the fundamental role HRDs play when speaking out for their people, whether they remain in their countries or are forced to flee, and of how critical that role can be in times of crisis.
"A crackdown on human rights defenders is a warning of a crisis to come, and we saw this when South Sudanese HRDs were chased out of the country," said Hassan Shire when accepting the award. "How can you expect a South Sudanese HRD to dream of returning to a better country if he isn't allowed to sleep at night?

This week a delegation from DefendDefenders and Refugee International will conduct a week-long advocacy mission in Washington D.C. to raise awareness of the grave human rights and humanitarian crises plaguing the East and Horn of Africa, resulting in ever-increasing refugee flows.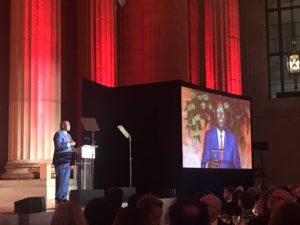 In 2016, DefendDefenders launched its report "Exiled and in Limbo: Support Mechanisms for Human Rights Defenders in Exile in Kenya, Uganda, and Rwanda" which examines the situation of HRDs living and working in exile, and provides a resource guide of the various support mechanisms available to them
Of the 50 HRDs interviewed during DefendDefenders' research, 90% fled their countries because of direct threats to their security, including detention, torture, physical attacks, and death threats, and over 60% reported being threatened in exile.