12 November 2015 – Today is the second day of the two-day Valletta Summit, which brings together European and African Heads of State to address the growing refugee crisis that has taken over the headlines in Europe. It has seen hundreds of thousands of people flee their homelands, undertaking dangerous and sometimes ill-fated travels to find safety in Europe.
Eritrea is the second highest source country in the current refugee crisis, and yet little is known of the horrific human rights abuses taking place within its borders. Elsa Chyrum, the Director of Human Rights Concern – Eritrea, speaks in this video about the brutal regime in place in Eritrea, the difficulty of sustaining international attention to the systemic, widespread and gross human rights violations taking place in Eritrea, and the international response to the migration crisis taking place today.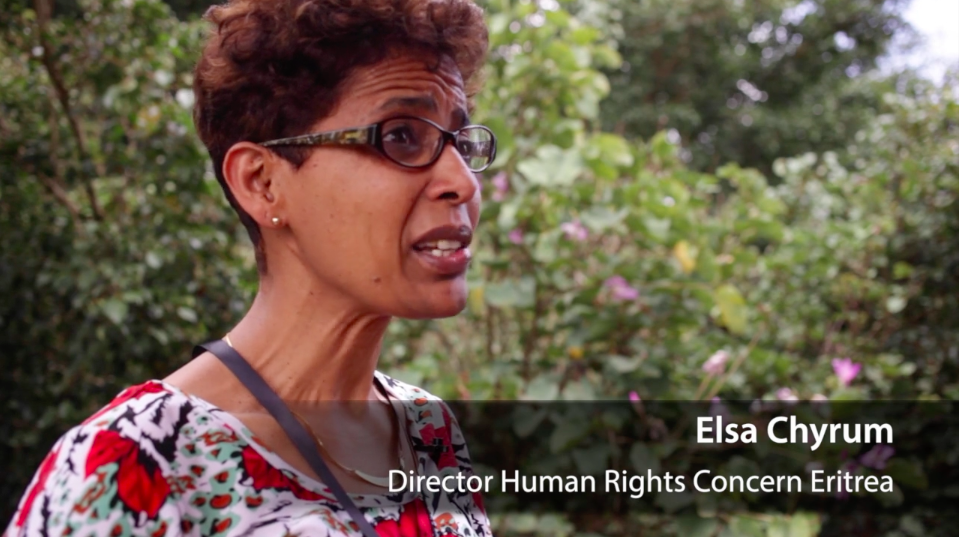 Ranked below North Korea in the 2015 Reporters Without Borders Press Freedom Index, it has detained over 10, 000 prisoners of conscience without charge or trial. It is one of the world's most repressive and closed regimes, making human rights monitoring virtually impossible. At least 23 journalists are in prison in Eritrea, many of whom have been held since 2001. In many of these cases, years have passed since a sign of life, let alone a testimony of direct contact with them, was recorded. Another seven are believed to have died while incarcerated according to figures gathered by Reporters Without Borders.
Forced conscription, arbitrary arrest and detention, torture, disappearances, and other abuses against human rights defenders, journalists, opposition politicians and ordinary citizens are commonplace in the country. The poor conditions have resulted in widespread migration with an estimated 5,000 Eritreans risking their lives to leave the country every month.
The United Nations Commission of Inquiry on Human Rights in Eritrea, established in June 2014 to investigate all alleged violations of human rights in Eritrea, has been repeatedly been denied access to the country by the Eritrean government. According to the Commission, "the Government has proceeded to establish a system by which individuals in society are silenced and isolated through the organised repression of the freedoms of opinion, expression, assembly, association and religion." The Government of Eritrea has repeatedly denied these claims.
This dialogue between countries of origin and countries of destination aims to find common solutions to a situation that has already cost thousands their lives. Eritrean Foreign Affairs Minister Osman Saleh is the sole representative of Eritrea present at this forum.
EHAHRDP reiterates the Commission's call for the international community to protect the tens of thousands of Eritreans who have and continue to seek refuge outside of their repressive country, and promote safe channels for regular migration, particularly for those attempting to cross the Mediterranean. EHAHRDP exhorts all States involved in the Valletta Summit, particularly host countries within the European Union, not to close the door on Eritrean asylum seekers or send them back to almost certain abuse.
Link to the video: https://vimeo.com/145480869