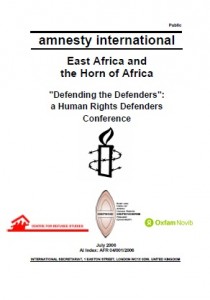 Download PDF
Human rights defenders from East Africa and the Horn of Africa often put themselves at grave risk to their lives or liberty in their efforts to expose human rights violations.
In Ethiopia, human rights defenders are on trial for treason or seeking to overthrow the constitution, and face possible death sentences; in Sudan, human rights lawyers are frequently detained and interrogated, and a Sudanese humanitarian organisation in Darfur which has emergency medical and feeding centres was shut down early this year – though later allowed to re-open after international protests. In Somalia, where there is no effective government or rule of law, human rights organisations are under constant threat of violence from warlords. In Eritrea, there is no human rights organisation, on account of widespread political repression.
Despite protection afforded by international and regional human rights treaties and standards, such as the UN Declaration on Human Rights Defenders (1998), governments (and some armed political groups too) continue to take repressive action against human rights defenders in order to counter exposure or criticism of practices that violate human rights. Human rights defenders have been harassed, defamed, dismissed from their jobs, physically attacked, arbitrarily detained, subjected to fabricated charges and unfair trials, tortured or ill- treated, and sometimes "disappeared" or killed.
Much of this sub-region has experienced massive human rights abuses going back many years, in the context of single-party rule, military dictatorship, the struggle for democracy, internal armed conflict, and in the extreme case of Somalia, the long-term collapse of the state. Women human rights defenders have often suffered from social exclusion. Those advocating for LGBT (lesbian, gay, bisexual and transgender) rights have encountered harassment and violence from the general public, as well as the threat of criminal prosecution on account of their sexual orientation.
This is a report of a Human Rights Defenders Conference held in Entebbe, Uganda, from 30 October to 4 November 2005.

It provided a unique opportunity for human rights defenders from East Africa and the Horn of Africa to share their experiences, exchange ideas and build networks to support each other.
The conference was jointly organized by Amnesty International and the East and Horn of Africa Human Rights Defender Project (EHAHRDP), based in Kampala. It brought together 43 human rights defenders, including 19 women defenders, from Djibouti, Eritrea, Ethiopia, Kenya, Somalia and Somaliland, Sudan (including South Sudan), Tanzania (including Zanzibar), and Uganda.


The report contains testimonies by human rights defenders of arbitrary arrest in Ethiopia, kidnapping and death threats in Somalia, forced female genital mutilation in Kenya, and persecution of a lesbian activist in Uganda.
Participants had workshop discussions about the problems human rights defenders face in situations of armed conflict, political and legal repression. There were presentations on international and regional instruments for the protection of human rights defenders; risk assessment and security management; mainstreaming gender and engendering human rights defenders; trauma counselling and coping strategies; lobbying, media work, strategic planning and advocacy.
The conference culminated in the launching of a new Human Rights Defenders Network linking organizations working for human rights in East Africa and the Horn, and the adoption of a Plan of Action.