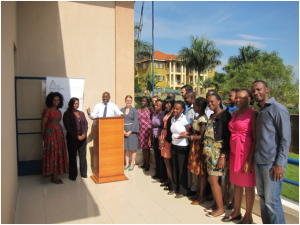 EHAHRDP is pleased to announce the two new appointments to our growing team.
Ms Irene Nakasolya joins EHAHRDP as the new Regional Coordinator of the East Africa Human Rights Education Program (EAHRP). She holds a Bachelor of Arts with Education from Makerere University Kampala and is currently pursuing a Masters of Arts in Gender Studies at Makerere University.
Prior to joining EHAHRDP, Irene worked at Action for Rural Women's Empowerment (ARUWE) in Uganda as the Acting Director where her roles and responsibilities included project planning and management, fundraising, community capacity building, donor coordination and collaboration. She carried out trainings with rural women in a bid to help them initiate their development processes and achieve their social, economic and political rights. Irene has also previously worked as a Social Development Officer with an NGO called the Youth Initiative for Development Association (YIFODA).
At EHAHRDP, Irene will be responsible for coordinating East Africa Human Rights Program activities, working in collaboration with Equitas Canada and the East African steering committee for the effective implementation of the East Africa Human Rights Program. She can be reached by email on educationea@defenddefenders.org or by phone on +256-312-265820.
EHAHRDP also welcomes Ms Sagal Jibril in the newly created role of  Special Programs Officer. She holds a Masters degree in Environmental Studies, a Bachelors degree in International Development Studies and a Graduate Diploma in Refugee and Migration Studies from York University, Canada. Prior to joining EHAHRDP, Sagal worked as an intern and consultant with an NGO in Nairobi where she helped create partnerships with local NGOs working on Somali projects and assisted with civil society participation in Somali conferences. She has also volunteered and worked for non-profit organizations in Toronto, Canada that exclusively deal with the settlement and integration of immigrants and refugees, especially youth and women.
At EHAHRDP, Sagal will be responsible for the overall coordination of the Somalia program and will support the implementation of the program as well as communicating and collaborating with our Somalia project partners for effective implementation within the strategy of EHAHRDP. She can be contacted by email on specialprograms@defenddefenders.org or by phone on +256-312-265820.
Please join us in welcoming Sagal and Irene to the team!