As an inspiring activist, illustrator, and graphic designer, Alaa Satir uses her art as a tool to promote women's rights and justice in Sudan. "The challenges that we, women, have faced in Sudanese society have been enormous – we have been the main casualties of Omar al-Bashir's regime," Satir says. "Art makes people question things. It allows them to practice their freedom of speech. This way, art can create change." 
The Sudanese artist graduated from university with a degree in architecture in 2012. Longing for creative freedom, she went into the field of visual art, digital illustration, and graphic design. "[Visual art] is a good venting mechanism, a way to cope with life, and the society that I live in," she stressed. Most of her drawings depict women's struggles – reflecting her own opinions on society, in the hope that other women would feel connected to them.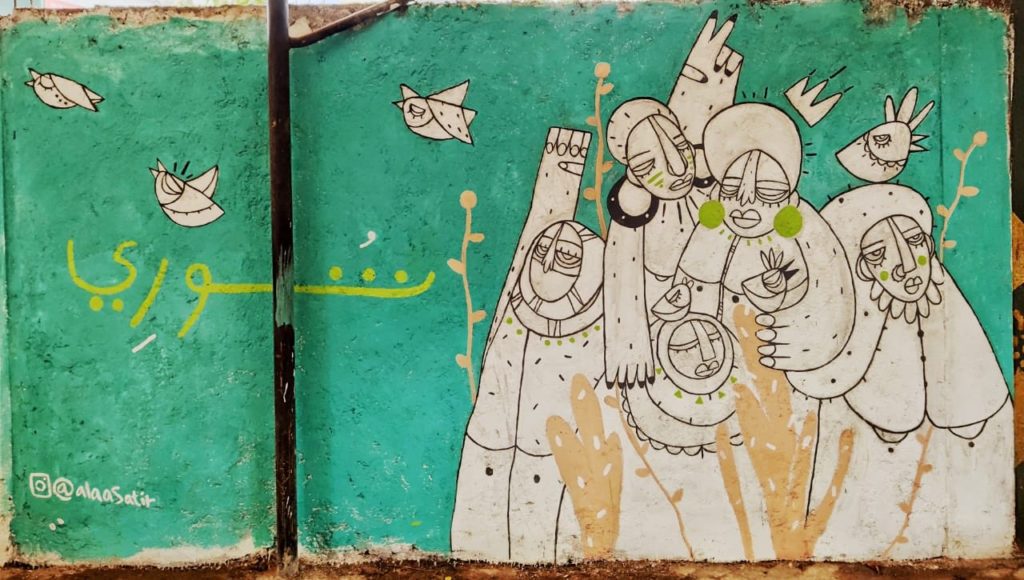 When the Sudanese revolution broke out in December 2018, women human rights defenders (WHRDs) became the face of the resistance – mobilising and empowering women and activists across the country. "The social system that prevailed in Sudan for years was masochistic and sexist – we now want to build a new system in favour of women," Satir says. "When the Sudanese revolution started, I wanted to highlight women's role in the revolution." With her creative mind, she continues to fulfil that vision.
Though the media portrayed the female resistance in Sudan as something new, Satir emphasises that women have long been part of the country's struggle for peace and justice. "In the revolutions of 1964 and 1985, women played a big role." She points to social media and the Internet as key components in uncovering women's battles in the current revolution, as pictures and videos of women's activism went viral. 
"Does art really have a serious role in creating change? I would always ask myself that. Now, after the revolution, I can answer that it does. I will try to do my best to reflect the long journey of women's rights in Sudan within my work, continue talking about our struggle and our demands."
The use of art as a tool for justice should not be taken for granted in Sudan. Until recently, art, especially street art, was often viewed as vandalism, she points out. With the fall of al-Bashir in April 2019, the Sudanese revolution gained worldwide attention. "Beforehand, people just viewed it as 'just another African country in conflict.'" In addition to global attention, the fall of the regime opened up space for art. "It was one of the best things that happened in the period – it transformed the revolution." Since then, the artistic resistance has bloomed. 
Satir states that she holds street art very close to her heart. "It's an amazing way to empower [..] you don't need to have Internet access, or social media – street art is available for everyone." 
For more information about Satir's work, check out her Instagram and Twitter.