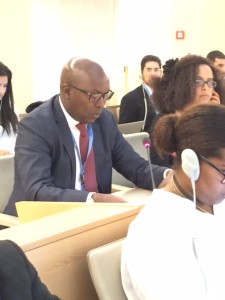 Oral Intervention
East and Horn of Africa Human Rights Defenders Project (EHAHRDP)
Delivered by Mr. Hassan Shire
Thank you Mr. President.
The East and Horn of Africa Human Rights Defenders Project welcomes the report of the Special Rapporteur on the human rights situation in Eritrea and appreciate the findings of the Commission of Inquiry on Eritrea. The reports point to the gross human rights violations including arbitrary detention, extra judicial killings, indefinite national service and trafficking in persons all being committed against the Eritrean people by allegedly its own government.
Mr. President, our organisation is concerned by the massive flight of Eritrean victims as migrants, asylum seekers and refugees triggered by these human rights violations. The survivors are exposed to more threats across the Sahara and Mediterranean Sea and often endure more violations including human smuggling and trafficking as they struggle to find a safe place in Europe and the rest of Africa.
We decry the unlawful detention of prisoners for over long periods of time and the inhumane and deplorable detention conditions with limited or no access to water, food, fresh air or medical facilities including detention in metal containers some of which are buried underground. We condemn incommunicado detention and solitary confinement as a form of punishment contrary to international human rights standards.
We restate the Special Rapporteurs call to Eritrea to strengthen the democratic governance institution and guarantee the independence and impartiality of the judiciary to tackle impunity. We further echo the Special Rapporteur's statement that respect for human rights is vital for a democratic state and that these rights should not be sacrificed for short-term political or economic gain.
We recommend the renewal of the mandate of the Special Rapporteur on the situation of human rights in Eritrea
I thank you.