Dear friends and colleagues,
On 12 August, we celebrated International Youth Day. Despite the fact that the majority of our continent is younger than 35, young people rarely get a seat at the table. There is a democratic deficit in youth representation, but that does not stop young people from taking matters into their own hands. The Sudanese revolution is a prime example of young people sparking immense change and finding innovative ways to protest. Read about our human rights defender (HRD) of the month, Malab Alneel, to learn more about how Sudan's youth created new forms of protest online.
DefendDefenders work is also increasingly shifting online, not least because of the pandemic. This month, our DefendersTech team has held several trainings to increase physical and digital security of HRDs. We continued our online advocacy, supporting the renewal of the mandate of the Commission of Inquiry on Burundi, calling on Tanzania to stop its restrictions on civic space, and on Guinea to respect the rule of law. But we are also happy that not everything has to be done online anymore. We have already held several in-person trainings, respecting social distancing, and look forward to continuing our physical advocacy at the UN Human Rights Council's 45th session coming up in September.
I hope you had a restful August and continue to stay safe and healthy.
Yours sincerely,  
Hassan Shire
Executive Director, DefendDefenders
Human Rights Defender of the Month:
Malab Alneel
Malab Alneel was only 20 when Sudan's revolution started in December 2018, but she knew it was the moment to get involved: "I grew up in a house that was very political. All of my sisters are activists, my parents are very involved. Activism has always been there. But for me it started with the revolution. It just felt like a time for change."
Malab, who is now 22, is a conceptual artist and activist – an artivist. Her form of activism mostly takes place online and is hard to categorise. She works with various organisations and has several ongoing projects, both online and offline, but a lot of her activism simply consists of posting her views online. Especially older generations are sceptical about this, she says: "It can be risky to express certain ideas so openly, but doing that helped me find a mini community of people who are willing to take the risk in order to see change."
That AfricanDefenders published a podcast on HRDs in exile? Listen to their final episode on Tunisia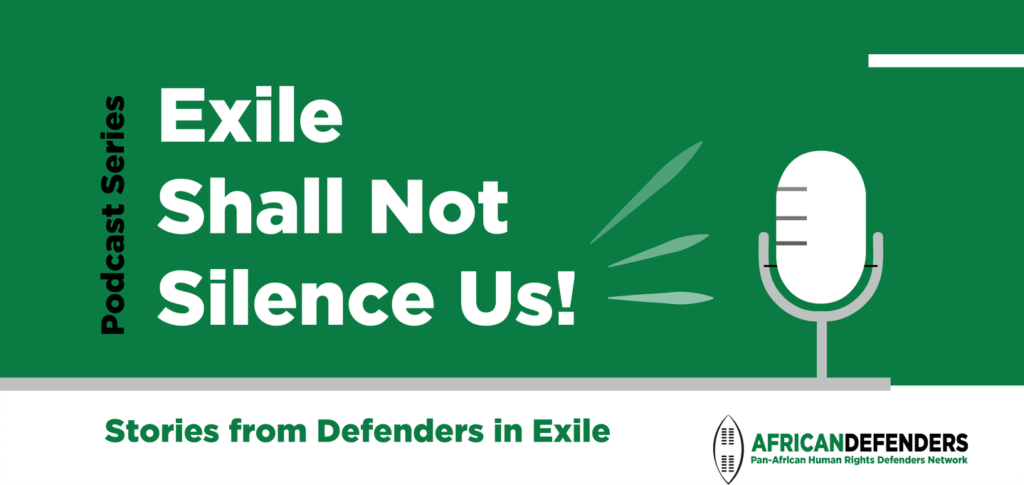 Updates from DefendDefenders:
DefendersTech conducted two organisational audits, one in-person audit for a local organisation in Uganda and one remote audit for an organisation in Ethiopia;
From 18-19 August, DefendersTech, together with the Office of the United Nations High Commissioner for Human Rights (OHCHR) East Africa Regional office and the Tanzania Human Rights Defenders Coalition (THRDC), conducted an online training for journalists and HRDs in Tanzania;
DefendDefenders' protection team conducted several trainings and follow ups in August:
10-12 August training in financial and organisational management for Ugandan HRDs;
10-14 August training of trainers (TOT) for HRDs from Eastern Uganda;
19 August half day training in security management for DefendDefenders' new staff;
24-28 August follow ups in Kiboga, Hoima and Bulisa. Equipment was delivered to eight organisations; and
Our protection team received 20 requests for support. Nine were approved, five were rejected, and six remain pending.
DefendDefenders' protection team providing a COVID-19 safe follow-up training.
Updates from AfricanDefenders:
AfricanDefenders hosted a webinar to strengthen impactful university-CSO collaboration to protect African civic space and support HRDs;
Hassan Shire called on the Guinean government to respect the judicial processes and release Saikou Yaya Diallo, who has been illegally detained for over two months;
Together with DefendDefenders, we highlighted youth activists' work on International Youth Day;
AfricanDefenders published the final episode of its podcast series "Exile Shall Not Silence Us"
AfricanDefenders organised a Steering Committee meeting in which the action points and implementation of the Zanzibar Convention, Terms of Reference of the Steering Committee and ground rules for collaborative planning were discussed.
AfricanDefenders joined over 40 human rights organisations in calling on the Zimbabwean authorities to respect, Beatrice Mtetwa's freedom of expression and the right to practice her profession. The human rights lawyer had been disqualified as legal representation for journalist Hopewell Chin'ono. Featured in Today News Africa and Pindula News;
AfricanDefenders also signed a joint statement calling for the release of convicted Nigerian Singer Yahaya Sharif Aminu. Featured in PUNCH and PMNews; and
AfricanDefenders received eight applications for support which are still under review.
Human rights updates from the East and Horn of Africa sub-region:
On 14 August, 13 police officers, local officials and members of the ruling party's violent youth wing Imbonerakure were jailed for extorting migrant workers returning from Tanzania. The verdict could be a milestone for ending impunity of government-related violence and, together with president Ndayishimiye's plans to overhaul the economic and political landscape, has sparked hope that the country's turmoil is ending. As a result, a first group of refugees in Rwanda has decided to return to Burundi. Despite these promises, civil society group FORSC reports of continuing kidnappings and enforced disappearances, sexual violence followed by assassinations, the burning of houses belonging to political opponents, the destruction of political party offices and the discovery of dead bodies.


In a civil society call made public ahead of the UN Human Rights Council's 45th session (14 September-6 October 2020), DefendDefenders and more than 40 partners urge States to support the renewal of the mandate of the Commission of Inquiry (CoI) on Burundi.
Referring to exiled opposition leaders, President Ndayishimiye said they should and will all perish because they support homosexuality, thereby not only promoting hate against LGBTQ community but also against opposition leaders.
Burundian journalist Jean Bigirimana has been missing for over 1,500 days.
At least 17 people have been killed during different protests in the Wolaita Zone of Southern Nations, Nationalities and People's Regional State (SNNPR) since 9 August.
Kenyan journalist Collins Juma Osemo alias Yassin Juma has been freed following intervention by the Ministry of Foreign Affairs and the embassy in Addis Ababa. The journalist had been held since early July.
One year after Ethiopian prime minister Abiy Ahmed was awarded the Nobel Peace Prize, the country faces a dangerous cycle of intensifying internal political dissent, ethnic unrest and security crackdowns. A series of protests in recent weeks highlighted growing discontent with the government.
Bloggers lost a court case, seeking to declare Kenya's cyber law unconstitutional. Social media users risk a fine of 20 million Kenyan shilling or a prison term of 10 years, or both, for harassing a person through the internet by making posts that are indecent or grossly offensive.
On 27 August, Kenya celebrated its constitution's 10th anniversary. Aljazeera reports that "the constitution has been more honoured in breach than observance." Many of the rights enshrined in the constitution have not been implemented, such as the right to assembly or an independent judiciary, amongst others.
After a six-day strike to protest delayed salaries and lack of personal protective equipment, Kenyan doctors signed an agreement with county officials and returned to work.
A computer science lecturer was dismissed by the University of Rwanda, following controversial political statements made on his YouTube channel.
Six months after well-known singer Kizito Mihigo's death in police custody, Human Rights Watch reports that Rwandan authorities have not conducted a credible and transparent investigation.
A former Rwandan soldier alleges to have witnessed Benjamin Rutabana's murder. Rutabana was a member of Rwanda National Congress, an opposition group in exile, and has been missing since travelling to Uganda in September 2019.
Agnès Callamard, UN Special Rapporteur on extrajudicial, summary or arbitrary executions, denounces a lack of investigation into the 2017 killing of journalist Christopher Allen in South Sudan.
Prominent South Sudanese activist Peter Biar Ajak has fled to the United States, after he was tipped off by "very senior" officials that South Sudan's president ordered him abducted or killed.
Plans by Sudan's army to file legal complaints against journalists for cyber libel and "insulting" the armed forces have echoes of the intimidation tactics used under the rule of ousted President Omar al-Bashir, local reporters say.
On 17 August, Sudanese security forces fired tear gas as protesters returned to the streets of Khartoum to demand quicker political reforms.
Sudan's main rebel alliance has agreed on a peace deal with the government aimed at ending 17 years of conflict on 30 August, according to official news agency SUNA.
On 12 August, Tanzania Human Rights Defenders Coalition's (THRDC) bank accounts were frozen following an order from the Police Force. Their National Coordinator was questioned at the police station. DefendDefenders and 40 signatories have called on the government to unfreeze THRDC's assets.
Tanzania has has silenced media coverage of the COVID-19 pandemic through a new law, as well as restricting foreign broadcasters. There are fears that this will interfere with reporting on the upcoming presidential election.
Tanzanian opposition parties complain that widespread irregularities took place in the enrolment of their candidates for the upcoming elections in October. The call for the formation of an independent electoral commission, expressing fears the elections will take place in a climate of violence and intimidation.