Dear friends and colleagues,
As we wind down 2021, I would like to reflect on the year, taking stock of our achievements and challenges, as well as strategise for 2022. The year 2021 was yet another challenging year dealing with mutations of the corona virus that have exacerbated the COVID-19 pandemic. In July, AfricanDefenders and DefendDefenders suffered the bitter brunt of the virus when it claimed our colleague – Mariam Nakibuuka, who until her demise, served as a senior protection associate in our Protection and Security Management department.  For those who, in one way or another, might have undergone similar or even worst experiences, allow me to condole with each one of you. 
 COVID-19 has been particularly tough on human rights defenders (HRDs), who, in addition to the general isolation occasioned by global lockdowns, have had to put up with heightened harassment by state authorities. Some states, in enforcing the pandemic-associated restrictions have often mirrored the proverbial handshake that goes past the elbow. Thus, by challenging the worryingly shrinking civic space, HRDs have incurred physical and emotional harassment, including arrests and detention.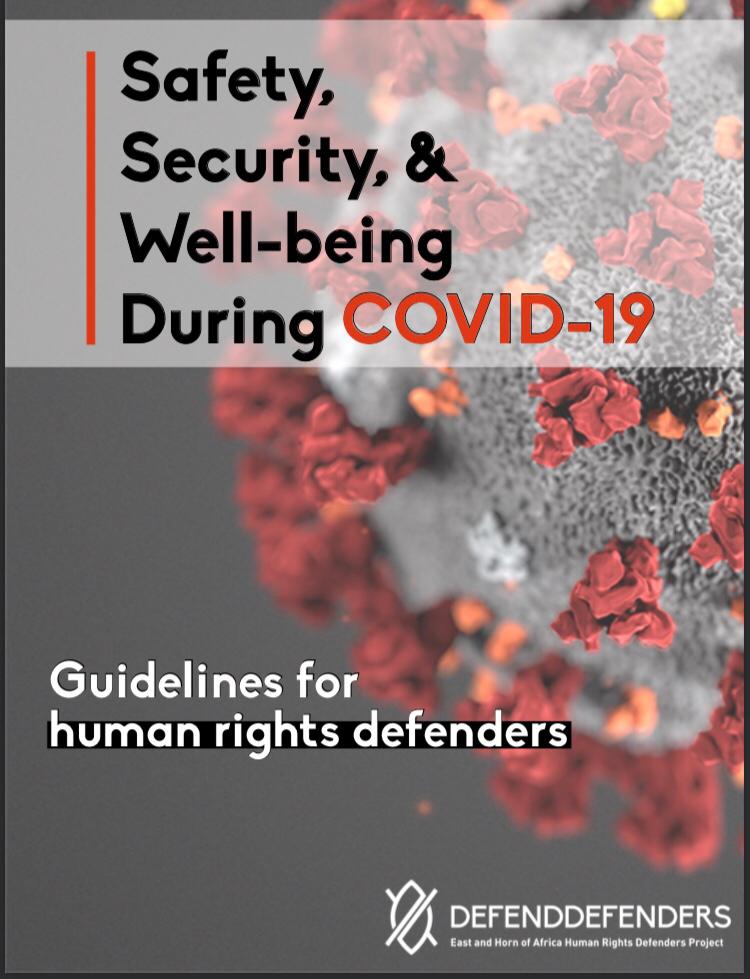 Throughout the year, DefendDefenders and AfricanDefenders remained alive to these challenges and more, that HRDs continue to face, which only served to strengthen our resolve to discharge our mission to enhance the safety and capacity of HRDs for greater resilience in their work. A total of 339 protection grants were approved this year, 160 rejected, 54 referred, 9 withdrawn while 8 are still pending. Out of the 339 approved cases.
Under our flagship relocation program – Ubuntu Hub Cities Initiative, AfricanDefenders supported the immediate relocation of 24 HRDs either internally or externally to ensure that they remain active but safe. It documented 242 human rights violations over which 21 statements and letters were issued, decrying the growing violations, and rallying the international community to pay keen attention to the responsible countries. In furtherance of the same, we produced a report on the ongoing conflict in Mozambique's Cape Delgado province, highlighting the growing human rights concerns in light of the persistent conflict.   
This year, African HRDs were uniquely challenged because, in addition to the raging global pandemic, the continent has experienced increased incidences of conflict.  Of the African Union's 55 member states, 16 are presently in conflict of one form or another. The East and Horn of Africa Region alone has six countries under the scrutiny of the United Nations Human Rights Council (UN HRC). 
I deeply regret that Ethiopia, which hosts the headquarters of the African Union, and where a declaration of commitment to Silencing the Guns in Africa by 2020 was made, is itself facing an ultra-violent conflict. It is unacceptable to see the level of violence and atrocities being committed currently in Burkina Faso, Burundi, Cameroon, Chad, Central African Republic, DR Congo, Ethiopia, Mali, Niger, Nigeria, Sudan, South Sudan, Somalia, Mozambique, and Libya. These country situations require urgent and immediate action of the African Union Peace and Security Council. It is my hope that the African Union will commit to having a fully functional prevention and conflicts resolution mechanism that includes a regime of strong sanctions to address the root causes of conflicts in Africa. 
Despite these challenges, my team improvised to continue to support HRDs-at-risk, through conducting safety and well-being trainings in our focus countries. Defenders' tech team conducted over 14 digital security workshops in several of our focus countries throughout the year, benefitting over 88 HRDs.  We paid special attention to women HRDs though our Safe Sisters program, conducting three specialised digital training workshops for over 32 Women HRDs.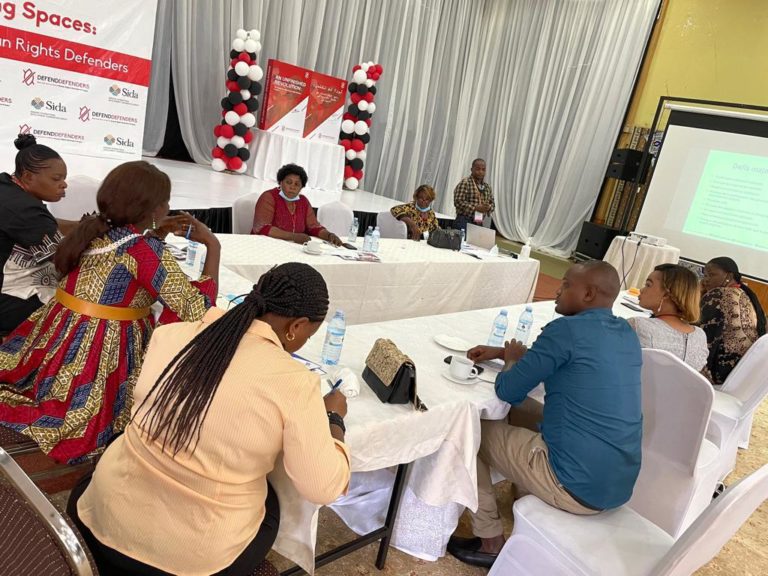 Through our Great Lakes project, we supported HRDs in our focus countries and those in exile within the region through capacity enhancement. A total of 56 HRDs (20 male and 36 female) were trained in digital and physical security win the great lakes countries, while 11 others were trained in monitoring, documentation and reporting of human rights violations.  
Our Geneva office remained active at the UN Human Rights Council, where we participated in the Council's 46th, 47th, and 48th sessions, becoming a critical voice of sub-Saharan HRDs in the process. Our leading advocacy role contributed to the adoption of the UN Human Rights Council resolutions on South Sudan and Eritrea, renewing the mandates of the Commission on Human Rights and the special Rapporteur respectively.  
At HRC47, our advocacy contributed to the adoption of the resolution on Ethiopia, which will ensure that debates on the human rights situation in the country remain on the council's agenda, a critical effort in light of the country's fragile human rights situation thanks to the ongoing conflict in Tigray that has extended to Amhara and Afar regions. Our efforts also saw a resolution on Burundi adopted to retain the country on the Council's agenda as we continue to monitor its human rights situation. 
When Sudan's military staged a takeover on October 25, our Geneva Office swiftly managed to rally the council for a special session to restore the country under the Council's scrutiny.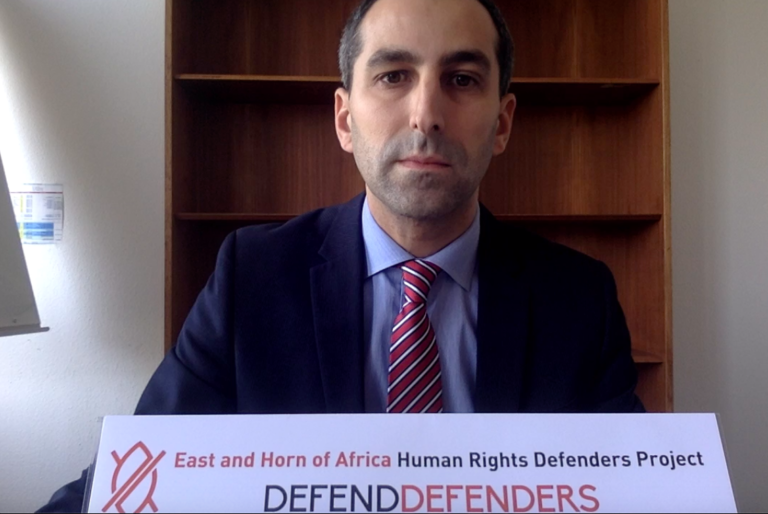 Together with partners, we also facilitated and contributed to the Universal Peer Review Mechanism reports on six countries – Rwanda, Somalia, Sudan, Tanzania, Uganda, and South Sudan, and produced reports on the latter two countries ahead of their review early next year.  Additionally,after two years of monitoring Sudan's fragile political transition and especially the role of HRDs in the country's quest for democratic reform, we launched our findings in a report titled: An Unfinished Revolution: The situation of women human rights defenders in Sudan    
We remained active at the African Commission on Human and People's Rights, where we submitted oral statements on the Report on the Special Rapporteur on Refugees, Asylum seekers, Internally Displaced Persons, and Migrants in Africa, the Report on the Special Rapporteur on Human Rights Defenders in Africa, and on the Report of the Chairperson of the working Group on Extractives, Environment and Human Rights violations in Africa.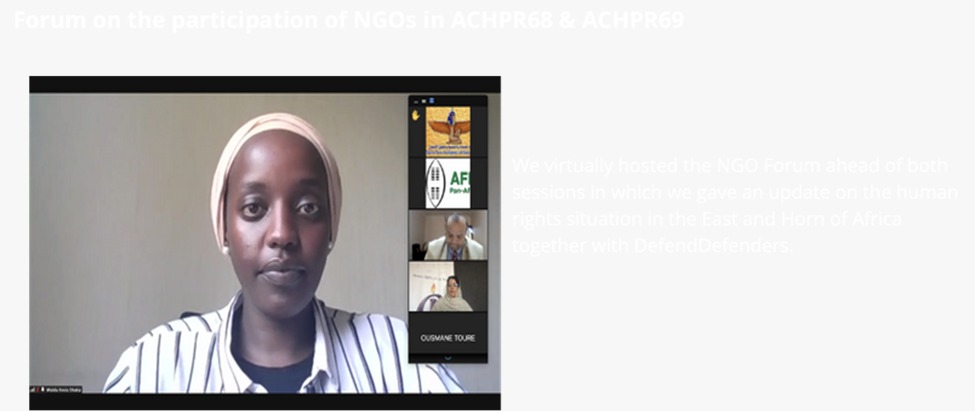 We kept track of critical international dates and campaigns on the International Human Rights Calendar. On World Press Freedom Day, I issued a statement reiterating the importance of a free press, and called upon governments to live up to their commitment to defend and protect the freedom of the press and expression as enshrined in Article 19 of the Universal Declaration of Human Rights, and at the start of the 16 days of activism against Gender-based violence, I released a video message to raise awareness about the importance of the campaign, and to emphasize why Gender-based violence is a human-rights issue.   
As our final act for the year, we brought together over 70 HRDs exiled in Uganda for our annual flagship program, Claiming Spaces: Tactical Tools for HRDs to equip them with practical tools for resilience during their stay in exile. The event was attended by representatives of diplomatic missions, government authorities, civil society members and HRDs. During the weeklong event, the HRDs were trained in among others, resource mobilization and accountability, documentation and report writing, and how to conduct strategic advocacy while in exile.  
On 9 December and 10 December, I officiated at the International Human Rights Defenders Day and International Human Rights Day respectively, where we recognized and awarded outstanding human rights defenders with the annual International Human Rights Defenders Awards jointly organized with the National Coalition of Human Rights -Uganda. At the follow-up media engagements, I called upon the government of Uganda to debate and pass a law specially designed to protect HRDs, recognizing their unique contribution and therefore the unique threats they face in their line of work.   
I would like to thank all our partners who have walked with and supported us in our endeavor to create a safe working environment for HRDs, and pledge that we shall continue to strive to live up to our mandate and commitments in the coming years. 
Our office closed on 15 December for the holidays and will reopen on 3 January 2022, but our emergency line +256 783 027 611 for HRDs at risk and [email protected] will remain operational throughout the holidays. 
Happy holidays! 
Hassan Shire