Dear friends and colleagues, 
While our offices have partially opened up again and many human rights institutions are slowly resuming their activities in person, our work continues to be shaped by COVID-19 dynamics. 
On 3 May, we celebrated World Press Freedom Day – an important day every year, but even more so during this pandemic. Freedom of information is key to contain the spread of a virus like COVID-19, yet there has been an alarming rise in media freedom violations. DefendDefenders will continue to call for press freedom, during this pandemic and beyond. 
We have also supported UN High Commissioner for Human Rights Michelle Bachelet's call to release detained human rights defenders (HRDs) to decongest overcrowded prisons in our #FreeHRDsNow campaign. Detained HRDs, like other detainees, risk contracting COVID-19. They should have never been detained in the first place. 
To better understand the impact of COVID-19 on HRDs, we have organised a webinar series. Our first webinar, on the challenges faced by HRDs, was a great success with over 120 participants. I was honoured to moderate our fantastic guest speakers and I warmly invite you to join our next webinars, which will take place weekly in June. We have declared June 2020 as the month of HRD well-being, so keep an eye out for our daily content on mental well-being. 
Please continue to stay vigilant and safe, especially in those places where lockdowns are slowly eased or lifted. 
Yours sincerely,
Hassan Shire 
Executive Director, DefendDefenders 
Human Rights Defender of the Month: Edmund Yakani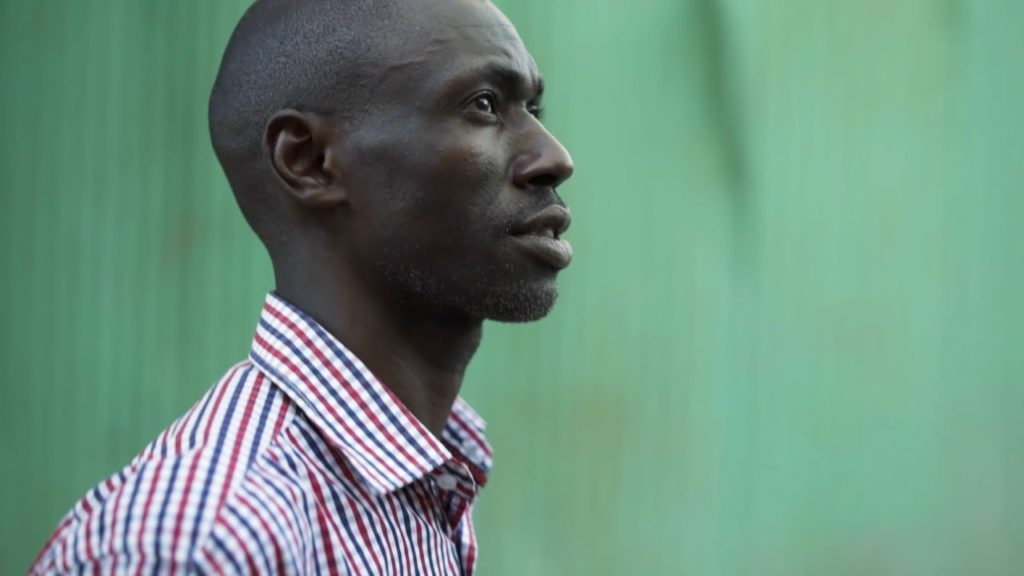 Edmund Yakani is one of South Sudan's most prominent human rights defenders (HRDs) and Civil Rights Defender of the Year 2017. Edmund has worked on an array of topics – the rights of internally displaced persons (IDPs), transitional justice, and the protection of HRDs in cooperation with DefendDefenders – that are all connected by the common thread of human rights promotion and protection.  
So, when South Sudan's government started planning a COVID-19 response, Edmund made sure that human rights were part of the equation. Edmund's NGO, Community Empowerment for Progress Organisation (CEPO), released a checklist for human rights considerations in the response to COVID-19. Together with Global Peace Partner, CEPO also developed a national framework for the COVID-19 nexus with human rights.
That we declared June 2020 the Month of HRD mental well-being? We will post daily content centred around HRD well-being, culminating in a webinar on Friday 26 June. We will also continue weekly webinars on the impact of COVID-19 on HRDs. 
Civil Rights Defenders call for a consultant.
Updates from DefendDefenders:
Despite uncertainty as to when UN human rights bodies will be able to resume their work, DefendDefenders continues to engage States, UN officials, human rights experts, and partners. The 43

rd

 session of the Human Rights Council (

HRC43

) might resume on 15 June to 

complete

 its work. We expect resolutions on South Sudan and HRDs to be adopted. The Council's 44

th

 session (HRC44) might then take place from 22 June-10 July 

2020

;

 
In a 

letter

 developed by DefendDefenders in collaboration with civil society partners, we called on the Human Rights Council to extend the mandate of the Special Rapporteur on Eritrea. Daniela 

Kravetz

 will present her report to the Council during its 44

th

 

session

;

 

Pursuing long-term work on civic space, we published a policy 

paper

 in which we and 

HRCnet

 partners encourage States to more systematically use civic space indicators as objective criteria for action at the Human Rights Council. A resolution on civil society space is due to be considered at 

HRC44

;

 

In May, we also 

published

 a 6-page 

paper

 on the UN Human Rights Council

. 

"The UN Human Rights Council: What is it? How can it help human rights defenders? How to engage with it?"

 

serves as an introduction to 

Council-related 

advocacy;

 

 

On 

14-15 

May, 

DefendersTech

 partnered with the Office of the United Nations High Commissioner for Human Rights

 (OHCHR)

 East Africa Regional office, to conduct an online training for HRDs, non-governmental organizations, and policy makers. We covered topics such as cyberbullying, harassment and stalking, and digital security tactics, all of which are of particular importance in the context of the current crisis

, where 

many aspects of 

HRDs'

 work 

is

 moved online

;

 

On 

18 

May, 

DefendersTech

 began an online workshop with fellows from our Safe Sisters program

me,

 focusing on advanced skills and knowledge 

to

 conduct digital security assessments using the 

SAFETAG

 

framework as developed by Internews

. 

 
On 25-29 

May,

 

DefendersTech

 

carried out the first Regional 

Ttaala

 workshop. Due to the prevailing circumstances, the workshop was carried out online with about 14 participants taking part from Ethiopia, Tanzania, Sudan, South 

Sudan

 and Uganda.

 

Topics covered include 

d

ata, 

m

onitoring, 

documenting

 and reporting human rights

,

 and strategic advocacy tools and tactics

; and

 

In May, DefendDefenders received

 24

 protection

 requests

. Four are under review, three requests were approved (protecting a total of 21 individuals), 14 were denied, and three were referred to like-minded organisations.
Updates from AfricanDefenders:
AfricanDefenders

 initiated a 

joint 

letter

 to H.E Moussa 

Faki

, the Chairperson of the African Union Commission, after reports of African nationals facing xenophobic and racist treatment in China. The letter urged for a full investigation into human rights violations against Africans living in China and called for remedial action;

 

We supported Cameroonian CSOs through an informal network called Cameroon Advocacy Group to organise meetings and address the need for an urgent investigation into gross and grave human rights violations in Cameroon;

 

T

o strengthen HRD coalitions across the continent, we are preparing needs assessments for coalitions in Mozambique, Burkina Faso

,

 and Malawi. This will help us to determine how to best support them;

 

AfricanDefenders

 participated in a webinar hosted by the African Union Economic, Social and Cultural Council in conjunction with the Africa Development Bank. The webinar focused on gender implications of Africa's COVID-19

 

response and 

highlighted gender-related gaps, risks and threats observed in the ongoing response measures;

 

We joined a meeting hosted by Open Society Foundations analysing the impact of COVID-19 responses on 

r

efugees in East Africa with the aim to coordinate policy and advocacy actions;

 
AfricanDefenders

 engaged the African Commission on Human and People's Rights to coordinate on effective working methods that will allow continued engagements between the Commission and HRDs amidst the COVID-19 pandemic; and

 

We were a part of an online meeting organised by the International Forum for Democratic Studies and National Endowment for Democracy on "Deepening Repression Amidst the COVID-19 Crisis: Implications for Democrats at Risk".  We provided input on the impact of COVID-19 on 

HRDs

 in Africa, as well as 

how we

 support them.

 
Human rights updates from the East and Horn of Africa sub-region:
On 20 May, Burundi held general elections. Campaigning 

was

 

marred

 by deadly clashes, violence, and hate 

speech.

 

On election day, 

social media platforms were 

blocked

. Th

e president of the Human Rights Council-established Commission of Inquiry on Burundi 

stated

 that the conditions to perform credible and free elections were not met.

 The election board declared 

th

at

 

ruling

 

CNDD-FDD 

party candidate 

Evariste

 

Ndayishimiye

 

won

 

the presidential election 

with 67% of votes, wh

ich

 

opposition party CNL

 has

 contested in court.

 

Since 20 May, there has been a 

crackdown

 on opposition party CNL members

. Their

 spokesperson accuses 

the ruling party's youth wing, the 

Imbonerakure

, 

as well as

 police and intelligence officers. The ruling CNDD-FDD party rejec

ts

 

the 

allegations

.

 
On 3 May, 

Charmarke

 Saïd 

Darar

, correspondent of Djibouti's only independent media, Voice of Djibouti, was 

arrested

. He

 has been held without access to a lawyer or a doctor since.

 
Lieutenant Fouad

 Youssouf Ali

, an army pilot who fled to Ethiopia after denouncing injustice in Djibouti's army, was 

forcibly returned

 to Djibouti

 on 16 May, where 

he is held in 

Gabode

 prison, facing persecution

.

 

As 

Djibouti's COVID-19 cases 

are rising ste

e

ply

, lockdown measures 

continue

 to damage an already heavily restricted civic space.

 
On 5 May, ahead of the 44th session of the UN Human Rights Council, DefendDefenders and partners 

called

 on the Council to extend the mandate of the Special Rapporteur on Eritrea for a further year.

 

Eritrea's domestic human rights situation remains dire and no concrete evidence of progress can be reported.

 

On 13 May, Netherlands-based Foundation Human Rights for Eritreans (FHRE) filed a 

lawsuit

 with the Amsterdam district court, accusing the European Union of financing a major road renovation project that relies on forced labour and of failing to carry out due diligence.

 
On 6 May, authorities 

released

 Ethiopian lawyer Elizabeth Kebede, after she had been arrested and detained under a new state of emergency law, for questioning the government's COVID-19 response on social media. 

 

At least 1,305 people were 

arrested

 in Ethiopia's capital for "violating the state of emergency," as they did not wear 

a 

mask at public places as stipulated by the country's state of emergency laws.

 

Ethiopia's scheduled elections have been 

postponed

, due to the pandemic. If elections cannot be held before 30 September, this could trigger a constitutional crisis, as the five-year term of the federal and regional legislatures will expire on that day.

 
On 8 May, hundreds of people 

protested

 against government demolitions of the homes of more than 7,000 people in 

Kariobangi

, a poor informal settlement in Nairobi. 

The 

evictions and 

demolitions took place despite 

an ongoing court case

 on the residents right to live on the land

 and at a time, when the Kenyan 

government was 

urging people to stay at home to curb the spread of 

COVID-19

.

 
On 16 May 2020, 

Félicien

 Kabuga, one of the masterminds behind the Rwandan genocide

,

 was 

arrested

 in France

.

 According to Human Rights Watch, this

 brings victims and survivors one step closer to justice.

 

Rwanda's High Court 

sentenced

 a former mayor, 

Ladislas

 

Ntaganzwa

,

 to life in prison for

 leading a series of massacres of Tutsi civilians, including an attack on a church where thousands had taken shelter

, during the

 1994 genocide.

 

50 women, jailed for having abortions, were 

pardoned

 

by 

Rwandan President

, Paul Kagame

.

 The country's 

punitive anti-abortion law 

remain

 intact, however.

 
On 20 May, 

3,596 prisoners were 

released

 conditionally, to decongest prisons during the COVID-19 pandemic.

 
On 3 May 2020, 

p

resident Mohamed Abdullahi Mohamed "

Farmaajo

"

 announced

 

a 

reform

 of 

Somalia's outdated and draconian Penal Code of 1964

 to 

protect journalists and freedom of expression. 

Currently, the 

P

enal 

C

ode

 

is routinely used to arrest and 

detain

 journalists, leading to 

self-censorship and a stifling of public debate on critical issues.

 

On 4 May, 

two Shabelle journalists, 

Safia

 Osman 

Abdulle

 and Abdulkadir 

Ga'al

 were 

attacked

 by officials, resulting in serious injuries and confiscated equipment.

 The two journalists were covering a women's 

protest against

 the 

Waberi

 District Commissioner for lack of payment.

 

On 5 May 2020, Said Yusuf Ali, a reporter for 

Kalsan

 TV, was 

stabbed

 to death when he stepped in between a man and a woman who appeared to be fighting.

 Reporters Without Borders suspects premeditated murder, as 

Ali had covered the terrorist group Al-Shabaab.

 
I

nter-communal 

clashes

 

erupted 

in South Sudan's 

north-eastern

 Jonglei State

 on 20 May

. 

At 

least 280 civilians were 

killed

 and more than 50 people 

were w

ounded

. 

Dozens of homes were destroyed, warehouses belonging to aid groups were raided, and women and cattle were abducted during the attacks.

 

UN's special representative for South Sudan, David Shearer, 

attributes

 the violence to 

a

 power vacuum

, as 

the new coalition government 

has failed 

to appoint governors to the country's 10 states, including Jonglei.

 

On 

29

 May, 

the UN Security Council 

extended

 

South Sudan's 

arms

 embargo

, which otherwise would have expired at the end of May

, by one year

. 

I

nvestigations show

, however, that

 it ha

s

 been 

violated

 since being imposed in July 2018.

 

Edward 

Terso

, a South Sudanese journalist and well-known freedom of speech advocate

,

 

passed away

 on 29 May

. 

Terso

 was one of the Union of Journalists of South Sudan (UJOSS) founders, as well as its general secretary until his death. He helped to draft South Sudan media laws, and often faced risks due to his efforts to defend the rights of journalists

.

 
On 5 May, 

Kyadondo

 East Member of Parliament Robert 

Kyagulanyi

 

Ssentamu

 

(known as 

Bobi

 Wine) 

has led the opposition to 

petition

 the United Nations over the alleged worsening human rights situation in Uganda during this COVID-19 crisis.

 

A

 Ugandan court ordered the 

release

 of 19 LGBT+ people

,

 jailed for almost 50 days for risking spreading the new coronavirus

,

 on 18 May

 after public prosecutors withdrew the charges.

 

On 18 May, locals in 

Namu

ngoona

 blocked roads and burned wood to 

protest

 the delayed government food relief.

 On the same day, Dr Stella Nyanzi, events promoter Andrew Mukasa alias 

Bajjo

 and several others 

were

 

arrested

 in Kampala for demonstrating over "slow distribution" of government relief food to vulnerable people, mostly affected by the Covid-19 induced lockdown

.