Dear friends and colleagues,
George Floyd's murder has sparked unprecedented global outrage. Thousands of people in more than 4,000 cities around the world have made use of their right to peaceful assembly and condemned systemic racism and police brutality. DefendDefenders stands with the protesters and welcomes that the Black Lives Matter movement has now also reached the African continent. Moussa Faki Mahamat, Chairperson of the African Union (AU) Commission, has condemned the murder and the UN Human Rights Council (HRC) has, in an unprecedented move, held an urgent debate on racially inspired human rights violations during its 43rd session and consequently adopted a resolution on 19 June.
Unprecedented as well, was the length of the 43rd HRC session, which began on 24 February and was concluded on 23 June 2020, having resumed after a three–month suspension due to the COVID-19 pandemic. DefendDefenders' Geneva office proved to be an invaluable asset in these difficult times, as access to UN premises remains limited and travel to Geneva impossible for most nationals of East and Horn of Africa countries. To learn more about our advocacy work at the HRC, you can read my reflections on the 43rd session and follow DefendDefenders on Twitter, to stay updated on the 44th session, which started on 30 June and is expected to end on 17 or 20 July.
As COVID-19 lockdowns and physical distancing measures can exacerbate mental health issues like stress, anxiety or depression – issues HRDs are particularly vulnerable to – we decided to shine a light on HRD mental well-being in June. We profiled inspiring mental health professionals in the human rights field and compiled advice on well-being for HRDs. We have also translated our COVID-19 guidelines for HRDs into French and Arabic. They contain advice on securely working from home, cyber security, and well-being.
On this note, stay safe and take care of your well-being as the situation remains uncertain and precautionary measures continue to be needed.
Yours sincerely,  
Hassan Shire 
Executive Director, DefendDefenders
Human Rights Defender of the Month: Vanesa Tsehaye
Vanessa Tsehaye started her work as a human rights defender (HRD) at an early age: at 16, she founded a high school group in support of imprisoned Eritrean journalist Seyoum Tsehaye. Seven years later, the same diaspora organisation, One Day Seyoum, is one of Eritrea's leading human rights organisations – spear-headed by the now 23-year old Vanessa. 
The man for whom it was founded, Seyoum, is Vanessa's uncle. The journalist was arrested in 2001 during a crackdown on critics and non-governmental media. For 19 years now, Seyoum has been a prisoner of conscience, held without trial and under inhumane conditions, like so many others. "The Eritrean situation is very unique. In these past 19 years, very few things have changed for the better, if any," says Vanessa.
AfricanDefenders

' new podcast series 

"

Exile Shall Not Silence Us

"

 – new episodes will be 

released every Monday in July.

 

Our webinar series on the impact of COVID-19 on HRDs. You can find all recordings here.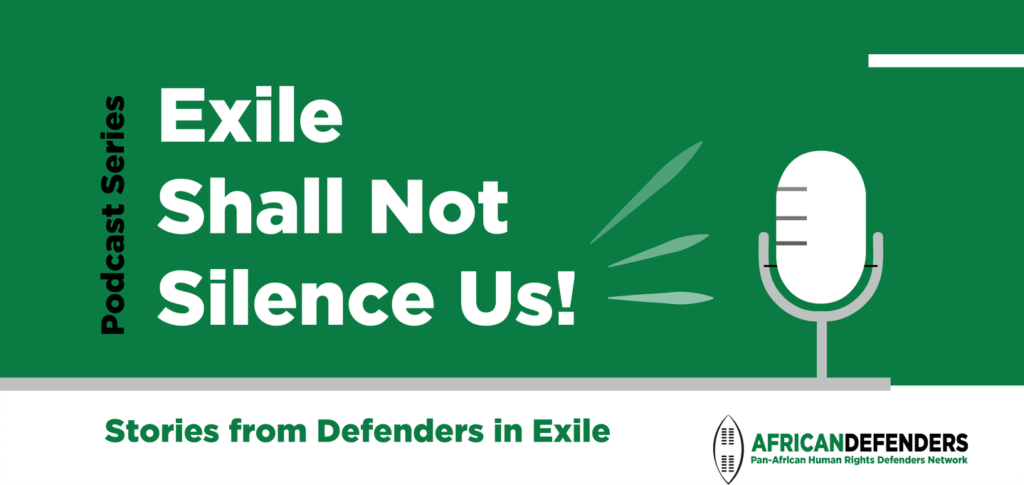 Updates from DefendDefenders:
On 23 June 2020, the UN Human Rights Council concluded its 43rd session (

HRC43

). The session opened on 24 February but was suspended on 13 March, due to the COVID-19 pandemic. It resumed on 15 June and closed after the adoption of 40+ resolutions, including on 

South Sudan

 (the resolution extended the mandate of the UN Commission on Human Rights in South Sudan) and 

HRDs

 (the resolution extended the UN Special Rapporteur's mandate)

;

 

Read Hassan Shire's "

Reflections

" on HRC43, including country-specific and thematic developments witnessed during the session. These include reflections on the COVID-19 crisis and its human rights implications, as well as the work of 

DefendDefenders

 and 

AfricanDefenders

 in this regard. 

DefendDefenders

' oral statements during HRC43 are available 

here

;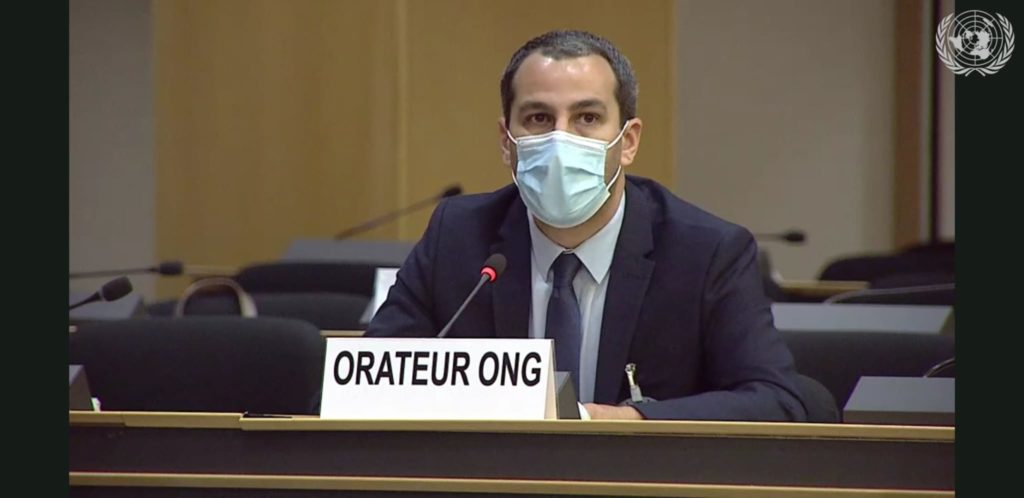 In a new

report

, 

DefendDefenders

 examines to what extent and how the 11 States of the East and Horn of Africa contribute to the advancement of the rights of women and girls at the United Nations. "Making a Difference for Women and Girls?" aims to make knowledge about States' behaviour at the Human Rights Council available to civil society partners, observers and the general public, contribute to citizen engagement with governments of the sub-region, enhance scrutiny, and further efforts towards the realisation of women's and girls' rights

;

 

The African Commission on Human and Peoples' Rights (ACHPR) decided to hold its 28th extraordinary session from 29 June-1 July 2020. It will hold its 66th ordinary session (ACHPR66) online, from 13 July-7 August 2020. Read 

DefendDefenders

' last bi-annual 

report

 to the ACHPR

;

 

DefendDefenders

 and 

AfricanDefenders

 together hosted 

a 

webinar series

 on the impact of COVID-19 on African HRDs. Each webinar had more than 100 participants, with translations into French and Arabic

;

 

From 8-12 June, 

DefendersTech

 participated in the virtual Internet Freedom Festival's Organizational Security Village

,

 which brought together people from across the digital security field

.

 On 

the third day

, we hosted a session covering security governance in CSOs. 

You can find coverage of all five days on 

Internews

' blog

;

 

From 15-26 June, 

DefendersTech

 conducted a training of digital security auditors online, focusing on the 

SAFETAG

 framework. The training was attended by participants representing 11 different organisations from Uganda, Sudan, Ethiopia, and Zimbabwe

;

 

From 23-26 June, 

DefendersTech

 conducted the third and final 

Ttaala

 workshop

 for 

six Uganda-based NGOs

. The foc

us was on 

project management

 

(

ClickUp

),

 social media 

management

 

(

HootSuite

),

 and social media analytics. 

We look forward to seeing their development

s

;

 

DefendersTech

 is offering a small number of IT certification exam vouchers to our Safe Sister fellows. This includes non-

exhaustive

: CompTIA Security+, and CompTIA 

CySA

+ Cybersecurity Analyst, Cisco Certified 

CyberOps

 Associate (formerly Cisco CCNA Cyber Ops), as well as CompTIA Linux

+

;

 

DefendDefenders

 

p

rotection team took part in webinars

, 

online grant meetings

, and

 

conducted 

an online physical and digital security management training for Alliance of Women Advocating for Change which started on 

23 

June

;

 

The protection team also initiated the 

month of HRD mental well-being

, including t

hree online therapy sessions, one public webinar

, five video clips providing tips on self-care and stress management

, and well-being quotes and HRD testimonies

; and

 
DefendDefenders

 received 36 protection support requests. 14 requests were supported, 11 referred, and seven

 were 

rejected. One case is pending and three were withdrawn.
Updates from AfricanDefenders:
Together with 25 other civil society organisations and associations and 20 legal experts

,

 

AfricanDefenders

 released a 

statement

 condemning the interference of the independence of judicial officers in Malawi by the Executive branch of the government. The statement was featured in an online publication called 

The Mast

; 

 

On World Refugee Day 

(

20 June 2020

)

,

 

AfricanDefenders

 launched a 

podcast series

 entitled "Exile Shall Not Silence Us." Based on testimonies of over 120 exiled HRDs, in-depth case studies and live interviews with four exiled HRDs, the podcast series highlights the professional, security, socio-economic, and psychosocial challenges of HRDs in exile in Africa, but most of all their achievements and resilience strategies.  Stay tuned for the next episodes

;

 
Under the Ubuntu Hub Cities Initiative, 

AfricanDefenders

 received 10 applications

 in June

. We supported six applications, three are still under review and one was withdrawn

; and

 

AfricanDefenders

 participated in 

several webinars in an effort to exchange best practices with different stakeholders especially in the context of COVID-19.

 
Human rights updates from the East and Horn of Africa sub-region:
After Burundi's President Nkurunziza unexpectedly passed, 

DefendDefenders

 and partners 

called

 on the 

new President, General

 

Évariste

 

Ndayishimiye

, to open

 a new chapter 

for 

Burundi's 

civil society.

In particular,

we

encouraged reconciliation and

the granting of 

pardon

s

 to all HRDs that are currently unjustly detained, such as

 Germain 

Rukuki

, Nestor 

Nibitanga

, 

Egide

 

Harerimana

, Christine 

Kamikazi

, Terence 

Mpozenzi

 and 

Agnès

 

Ndiribusa

.

 

On 26 June, the International Day of Support for Victims of Torture, 

A

CAT

-Burundi 

reminded

 the government of its obligation to end torture. Since 2015, 

A

CAT

-Burundi

 identified 240 cases of torture

 and suspects many more.
A

 

video clip of a detained air force pilot,

Fouad

Youssuf

Ali

,

saying he had been tortured, sparked days of anti-government

protests

 in Djibouti

. 

Hundreds took to the streets of Djibouti City on 4 June, before

 being brutally dispersed and arrested by police. 

The military officer had 

denounced discrimination and corruptio

n, 

he was arrested for alleged treason.

Demonstrations remain uncommon in the country.

 
In early June, two reporters for the 

Paris-based privately owned radio station and news website La 

Voix

 de Djibouti

, 

Kassim Nour 

Abar

 and 

Mohamed Ibrahim 

Waiss

,

 

were 

arrested

 while covering the ongoing protests

. A

 third journalist

, 

Osman Yonis 

Bogoreh

, 

went into hiding upon the police's arrival

. 

T

he 

Committee to Protect Journalists

(CPJ)

denounces

this

 harassment of journalists

.

 

Abar

 and 

Waiss

 have been released

 without charges

, whilst 

Bogoreh

 remains in hiding.

 
In a 

report

 made public in early June 2020, the UN Special Rapporteur on Eritrea

, Daniela 

Kravetz

,

 stated that she found no evidence of substantial 

improvement 

 regarding

 the country's

 human rights situation

.

 
On 10 June, Ethiopia's Parliament approved 

to 

extend

 

Prime Minister Abiy Ahmed

's term by one year, 

after the elections scheduled for August 2020 were postponed.

 A leading opposition politician resigned in protest over the election delay and the northern Tigray region announced to 

proceed

 with elections

 as scheduled. 

Divisions between Ethiopia's 

ethnically-based

 political groups have deepened since Abiy came into power.

 
On 11 June, 

protestors in 

Ethiopia's 

Somali Region demanded

that

 

the Regional President 

step down

 after a child died due to lack of assistance from the regional government. The region has 

witnessed 

more protests lately, 

as public dissatisfaction with the 

Regional 

President has grown, political crisis in the region has deepened, and the opposition has grown in capacity. 

 

 

 

Upon the killing of a truck driver, allegedly by 

two police officers

, 

protests

 erupted in Oromia region

 o

n 13 June

.

 Police used tear gas to disperse protestors, who had closed roads.

 
According to 

K

enya's Independent Policing Oversight Authority

, more than

 a dozen people 

were

 

killed

 by police while enforcing the COVID-19 curfew. 87 complaints against police have been reported since the end of March, 

with

15 deaths and 31 injuries directly linked to actions of police officers during the curfew

enforcement.

 

Human rights activists have protested against the

 alleged police killings for weeks now

. O

n 26 June

,

 three protesters w

ere shot and 

killed

, the responsible police officers are being investigated.

 
Thousands of people have 

fled

 into the bush

,

 following fighting in the east of South Sudan. Fighters from different communities are killing people, raiding cattle and burning homes. Médecins Sans 

Frontieres

 is worried that those displaced by the fighting will catch life-threatening diseases as they have no shelter.

 

On 23 June in Geneva, the UN Human Rights Council 

adopted

 a resolution extending the mandate of the Commission on Human Rights in South Sudan. 

 
The Tanzanian government is contemplating introducing amendments to the country's laws that will 

prevent

 human rights defenders and organizations from filing lawsuits on behalf of, or for the benefit of, victims of human rights violations, Amnesty International has learnt.

 

If passed, the proposed amendment – which was before the Constitutional and Legal Affairs Parliamentary Committee

 on 5 June

 – will require anyone seeking legal redress for human rights violations to prove that they were personally affected.

 

On 7 June, 

Lawyers and civil society actors expressed

concern

 over a new bill that will shield the sitting President and other leading politicians from prosecution

. 

 
Police 

raided

 a three

–

day training for 

HRDs held by the

Tanzania

n

Human Rights Defenders' Coalition

(THRDC) 

in 

Kisenga

. T

wo staff

 members were arrested

.

 

On 23 June, 

opposition leader 

Zitto

 

Kabwe

 and seven

 Tanzanian opposition 

politicians

 were arrested for 

"unlawful assembly." President

Magufuli

ha

s

banned

political activities until the National Electoral Commission announces the official period of campaigning ahead of the 2020 elections.

 

The politicians have been released on bail.

 

In yet another worrying move, authorities 

revoked

 the licence of the "Tanzania 

Daima

" newspaper, alleging violations of journalistic ethics and laws.

 

 
Ugandan police 

arrested

 two lawmakers for allegedly mobilizing protesters in order to demand the closure of a border town with South Sudan amid a rise in coronavirus cases, local media reported.

 
Police in 

Kyenjojo

 has 

arrested

 one of its officers for shooting a resident. According to the Regional Police Commander Rwenzori West the officer will be charged with attempted murder. 

 

A 65-year-old man was 

battered

 to death by Local 

Defense

 Unit officers enforcing night curfew guidelines 

Oyam

 district in northern Uganda.